Nvidia unveiled the GeForce GTX TITAN Z yesterday evening at its annual GPU Technology Conference. The newest and most powerful member of the TITAN range is built around two Kepler GPUs paired with 12GB of 7Gbps GDDR5 frame buffer memory. This potent card was said to be able to provide a shot in the arm to your "next-generation 5K and multi-monitor gaming," and home supercomputing tasks.
NVIDIA CEO Jen-Hsun Huang proudly took to the stage to show off the new graphics card and told the audience that "If you're in desperate need of a supercomputer that you need to fit under your desk, we have just the card for you."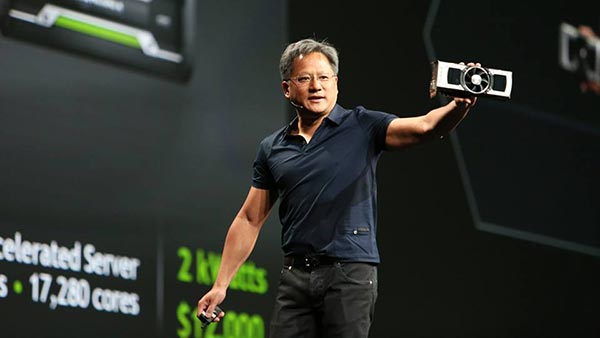 Huang started his speech by saying how the TITAN range enables gamers to play all their favourite titles to the max but quickly moved onto a 'supercomputer' theme telling us that TITAN cards were a favourite of designers, engineers and researchers. Nvidia's CEO also reminded us that the vast majority of Adobe's Creative Suite is now accelerated by GPUs. Then we saw two regular GTX TITAN cards merge into one 'Transformers' style.
The TITAN Z's two GK110 chips supply a total of 5,760 processing cores to the end user. Nvidia said that this dual-GPU card doesn't work like pervious or 'traditional' such SKUs, in the TITAN Z both GPUs are tuned to run at the same clock speed. The technique Nvidia uses to achieve this feat is called 'dynamic power balancing'. In this way neither GPU will be the source of a bottleneck, we are informed.

Despite all the power in this card Nvidia says that it runs cool and quiet thanks in part to the use of "low-profile components and ducted baseplate channels" which minimize turbulence and improve acoustic quality.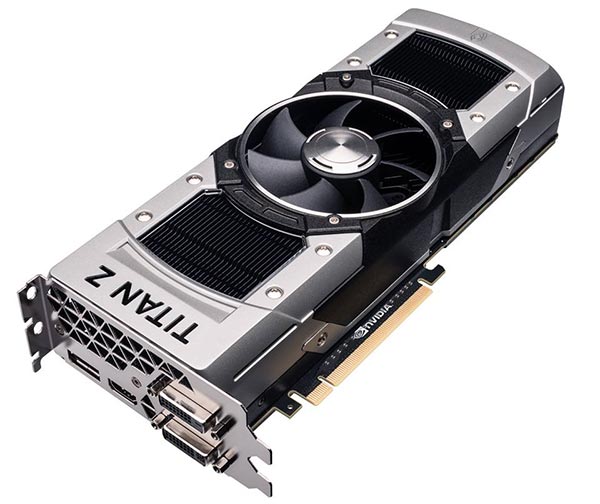 What will you have to pay for this aluminium clad powerhouse graphics card? Huang said it will be available for $2,999, which he equated to about 50 cents per processor. The TITAN Z will become available sometime in April.