Video card oriented site VideoCardz has rustled up the web's first pictures of the upcoming Nvidia 'Maxwell' GPU range. Also the site fills us in on some details of what the first cards with these chips will offer to end users when they are launched installed on video cards in less than a fortnight's time.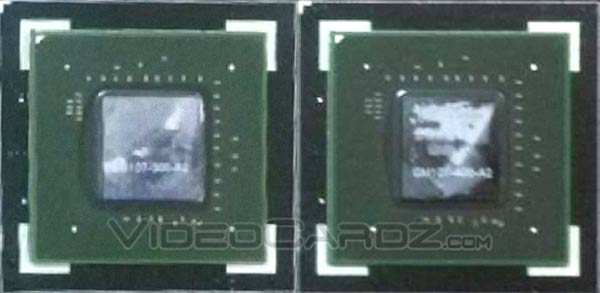 In the picture you can see two Nvidia GM107 chips side-by-side in a tray, presumably on the way to being incorporated into fully assembled graphics cards. VideoCardz says that the new chip is a hybrid of the GK106 and GK107 designs as it can have the same CUDA count as a GK106 which is combined with the 128-bit memory bus of the GK107. It is also noted that the die area of the new Maxwell chips detailed here offers a 30 per cent reduction on the GK106.
The new GM107 chips will be able to be employed upon graphics cards which don't require any power connectors. VideoCardz says that this is due to the "footprint and power consumption will be dramatically lower than any Kepler GPU". Note the GM107-400 TDP in the chart below.However these first Maxwell chips will not be made upon the 20nm process as TSMC isn't ready at this time to do so, these GM107 chips are made on the 28nm process. It is expected that when the first 20nm Maxwell chips are manufactured - that will mark the start of the GeForce 800 series for add-in video cards.

Two variants of the GM107 are known of at this time; the GM107-300 with 768 CUDA cores and the GM107-400 with 960 CUDA cores. These will power the Nvidia GeForce GTX 750 and Nvidia GeForce GTX 750 Ti respectively (both due on 18th Feb). You can see further differences to these chips in the table from VideoCardz embedded above.