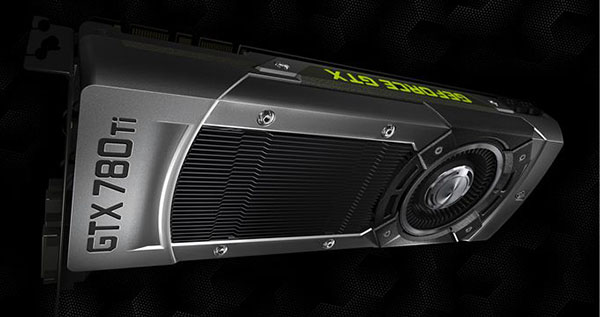 In a move that's not wholly surprising given AMD's Radeon R9 290X launch last week and serving as a tacit understanding that its comparable GPUs do not currently offer as much value for money, Nvidia has just announced it is delivering much-anticipated price cuts to the GeForce GTX 780 and GTX 770 GPUs. The cuts are due to be active by 1pm tomorrow.
Quoting prices in US dollars, the GTX 780 will drop from $649 to $499 and the GTX 770 from $399 to $329. Given that both GPUs have near-perfect exchange-rate correlation presently, one would expect the cheapest boards from each family to drop to £375 and £250, respectively, though it's likely both will be a touch more expensive as retailers try to increase margin.
Such a move puts the GTX 780 below the AMD Radeon R9 290X, and the GTX 770 very much in the financial crosshairs of the Radeon R9 280X. Nvidia believes it will offer still more value because the GTX 780/770, if purchased from authorised retailers, are bundled with redeemable codes for the following triple-A games, Batman: Arkham Origins, Splinter Cell: Blacklist, and Assassin's Creed IV: Black Flag.
And adding further spice to this announcement, Nvidia has revealed November 7 as the launch and general availability date for the GeForce GTX 780 Ti. We're still waiting on specifications, but we do now know that it will cost $699 (£550?) in reference form.
What do you think? Has Nvidia done enough to quieten the ever-increasing Radeon threat? Will the upcoming R9 290 (non-X) further upset the status quo? Do let us know your thoughts in the comments facility below.
Update
It seems as if enthusiastic etailers have already jumped the gun. For example, partner-overclocked GTX 780s are now available for £399.99 and also-overclocked GTX 770s £239.72, both from Scan.co.uk.