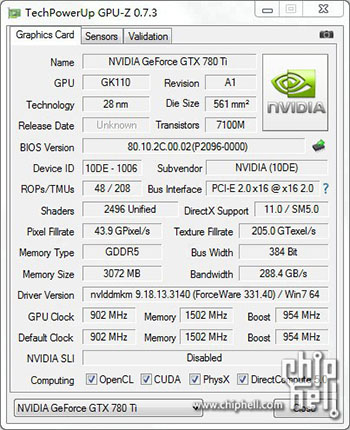 Nvidia Boss Jen-Hsun Huang stepped on stage last week brandishing the GeForce GTX 780 Ti graphics card. Described in his own words as 'best GPU that's ever been built,' we took it as an obvious slight towards the upcoming AMD Radeon R9 290X.
No specifications have thus far been proffered by the green team, but the folks over at Chiphell Forums appear to have a GPU-Z shot of the unreleased GPU, shown to the right.
Now, it is sensible to take anything posted on forums with a large pinch of salt, though Chiphell has been one of the better rumour-reporting sites with respect to eventual accuracy.
If true, the specifications suggest that in terms of architecture the GTX 780 Ti is a halfway house between Titan and incumbent GTX 780: this chip has 2,496 processing cores split over 13 SMX units (192 per SMX) - Titan uses 14 SMX and regular GTX 780 12. The remainder is pretty standard and identical to GTX 780, albeit with higher default frequencies than either existing top-end GPU.
Let's take this a step further and dial the supposed GTX 780 Ti into our Table of Doom™.
GeForce GTX Titan
(6,144MB)

GeForce GTX 780
(3,072MB)

GeForce GTX 780 Ti
(3,072MB)

Palit GTX 780 Super JetStream
(3,072MB)

Launch Date

February 2013

May 2013

November 2013

May 2013

DX API

11.1

11.1

11.1

11.1

Process

28nm

28nm

28nm

28nm

Transistors

7.1bn

7.1bn

7.1bn

7.1bn

Approx Die Size

551mm²

551mm²

551mm²

551mm²

Processors

2,688

2,304

2,496

2,304

GPU Boost

v2.0

v2.0

v2.0

v2.0

Texture Units

224

192

208

192

ROP Units

48

48

48

48

GPU Clock/Boost (MHz)

836 (876)

863 (902)

902 (954)

1,112

Shader Clock/Boost (MHz)

836 (876)

863 (902)

902 (954)

1,112

GFLOPS

4,494/4709

3,977/4156

4,503/4762

5,124

Memory Clock (MHz)

6,008

6,008

6,008

6,200

Memory Bus (Bits)

384

384

384

384

Max bandwidth (GB/s)

288.4

288.4

288.4

297.6

Power Connectors

8+6

8+6

8+6

8+8

TDP (Watts)

250

250

250?

250

GFLOPS Per Watt

17.98

15.85

18.0

20.5

MSRP

$999

$649

$649?

$649
A company can use various metrics to define the power of a GPU. Perhaps the most common is to calculate the potential GFLOPS throughput, and here is where it becomes interesting. The supposed combination of core speed and shaders would make the GTX 780 Ti a hair faster than the Titan in both stock and GPU Boost modes. Memory speed appears to be identical amongst the three premier cards.
But just for kicks, we've also included the peak numbers for a reviewed Palit GTX 780 Super JetStream - a card that runs at a minimum, but not guaranteed, GPU Boost speed of 1,112MHz in all of our games. This card's GFLOPS and memory throughput is comfortably higher than any reference-like Nvidia GPU. But of course, there's no reason why Palit, or any other partner, cannot indulge in overclocking the as-yet-theoretical GTX 780 Ti.
GTX 780 Ti will have to be a touch faster than Titan in specifications for Nvidia's CEO bombast announcement to carry validity, but, given a choice, the Titan is the better card due to its larger framebuffer. Question is, will the GTX 780 Ti be fast enough to counter the R9 290X threat? We'll find out soon enough.