A full lineup of EVGA Nvidia GeForce GTX 760 videocards, set for launch on Tuesday, has been leaked by website VideoCardz.com. EVGA has at least six permutations of this graphics card about to be launched, including models with 2GB and 4GB of GDDR5 RAM, stock clock speeds, superclocked and FTW examples and various cooling options. They all have this in common; 1152 CUDA cores on board, a 256-bit memory bus, a bevy of ports including 2x DVI, 1x HDMI, 1x DisplayPort.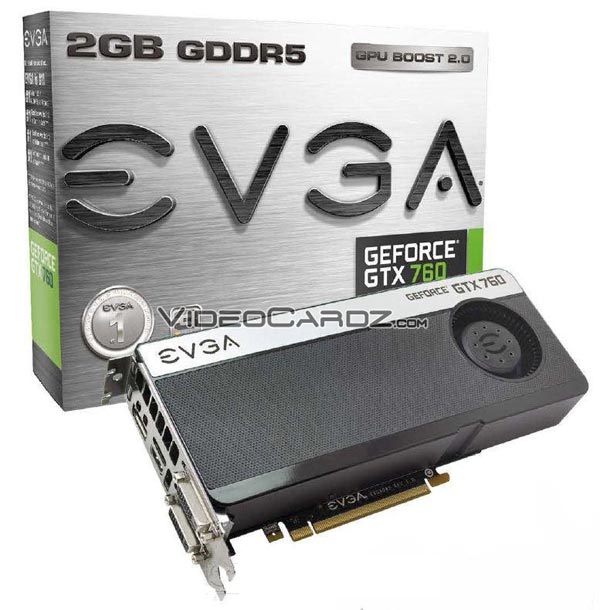 TechPowerUp reports that EVGA has come up with all these permutations to fill the price/performance gaps between the standard "$249-$299 GTX 760, and the $399 GTX 770". The base model in EVGA's range, the 'EVGA GeForce GTX 760 2GB' runs at the same clock speeds as the Nvidia reference design i.e. 980 MHz core, 1033 MHz GPU Boost, and 6.00 GHz memory and is equipped with 2GB of GDDR5 RAM. Various other models have different cooling solutions, superclocked or FTW clock speeds and graphics memory amounts.
Browsing through the variants detailed on VideoCardz.com you can see the fastest GTX 760 cards from EVGA look set to be the FTW editions which have base and boost core clocks of 1085MHz and 1150MHz respectively. That's a ten per cent higher core base clock speed than the reference design.
As well as card and packaging pictures and full spec lists for all but the 'EVGA GeForce GTX 760 FTW Superclocked 2GB' VideoCardz.com also has a good snippet of EVGA's press release blurb. EGVA say that the "GeForce GTX 760 is the new weapon of choice for gamers". Turning specifically to its prematurely revealed range of GTX 760s it boasts of its ACX cooling solution performance "allowing for 15% lower GPU temperatures". Also the EVGA fans are stronger and lighter than competitor offerings so the cooling unit can operate "20% more efficiently by requiring lower power levels". If you are interested in your new video card being durable EVGA says its designs use "double ball bearing fans which offer a 12 year lifespan".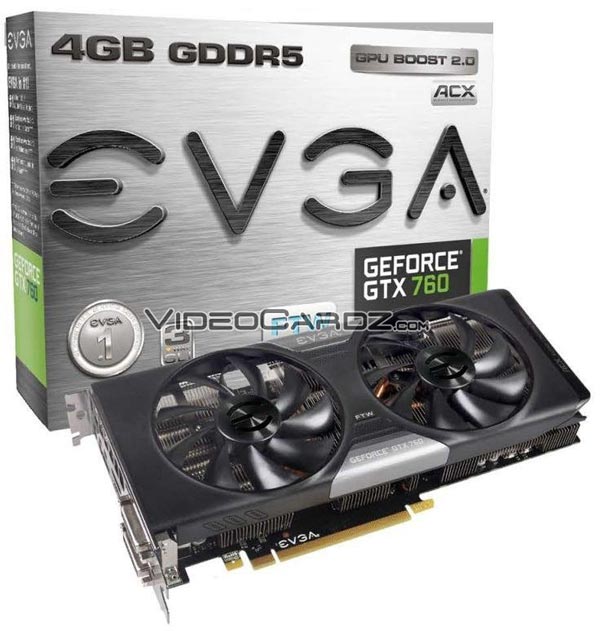 That's all for now, but it's not long until Tuesday, by which time we should have some official news and real-world games and applications performance details from Nvidia GTX 760 graphics cards.