The NVIDIA GeForce Experience Beta program is now available for anyone who wishes to do so to download. Last month the NVIDIA GeForce Experience was launched as a closed beta but even so it was downloaded, tinkered with and enjoyed by over 40,000 gamers. NVIDIA has looked through the closed beta feedback and made many improvements, refinements and tweaks to the optimisation GeForce Experience software.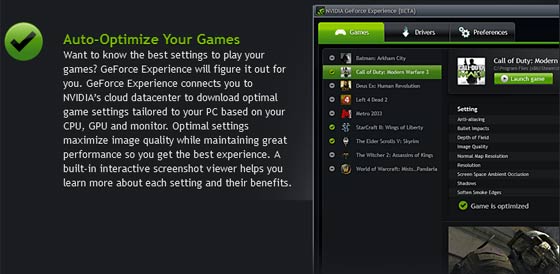 The NVIDIA GeForce Experience program works in the following way; It keeps you up to date with the latest drivers and also "NVIDIA performs extensive game testing for various combinations of GPUs, CPUs, and monitor resolutions and stores this information in the NVIDIA cloud. GeForce Experience connects to the NVIDIA Cloud and downloads optimized game settings tailored specifically to your PC".
As well as being open, the new NVIDIA GeForce Experience Beta program supports ten more hit games which include; Far Cry 3, Mechwarrior Online, Hawken, Hitman Absolution, Left 4 Dead 2, Deus Ex Human Revolution, Fable III, The Secret World, Football Manager 2013 and Fallout New Vegas. These additions bring the total list of supported games to 41. Due to popular demand optimal setting for resolutions of 2560 x 1440 displays have been added to the utility. Furthermore the application has been made compatible with some older CPUs that NVIDIA consider powerful enough to be worthy, these include Intel's Core 2 Duo and Quad CPUs. The NVIDIA GeForce Experience Beta program also has improved game detection and implements a handful of bug fixes and other miscellaneous improvements.
Before you go and download the application, though it's only 9.16MB, it's a very good idea to check the complete system requirements and the full list of supported games. Please note that Windows XP is currently not supported by the program.
For optimal settings NVIDIA suggests the following hardware minimum requirements
GPU: Fermi or Kepler-based GeForce 400, 500, 600 Series or higher (desktop and notebook) GPU
CPU: Intel Core i7, i5, i3 or higher, Limited game support for Core 2 Duo and Core 2 Quad, AMD Phenom II, Athlon II, Phenom X4 or higher
Display: Any display with 1024x768 to 2560x1600 resolution
*Windows XP is not currently supported but will be added in a later release.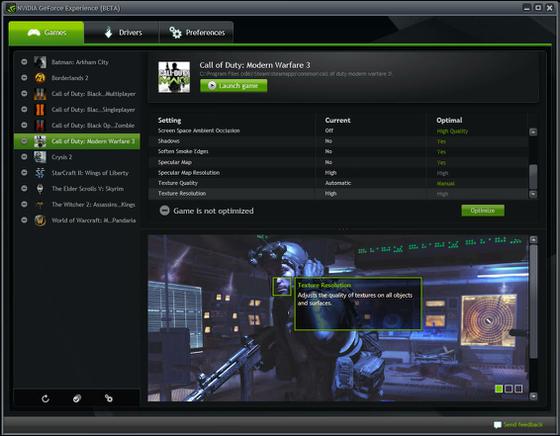 click picture to zoom in
On the whole the application looks like a great free utility to help you get the most out of your games library and your hard-earned NVIDIA hardware. With easy one click settings, thanks to the improved game detection logic, and being such a small download its well worth a try.