The recently released GTX 680 by NVIDIA was its first graphics card featuring a 28nm processor and the new "Kepler" chip design. It's NVIDIA's new single-core flagship card, with the stock core clock running up to 1,058MHz, depending upon system demands. At this stock speed it's already a consummate performer helping you to run the latest games at high resolutions and detail levels at smoothly playable frame rates. It beats the similarly priced rival, the AMD Radeon HD 7970 in most comparisons.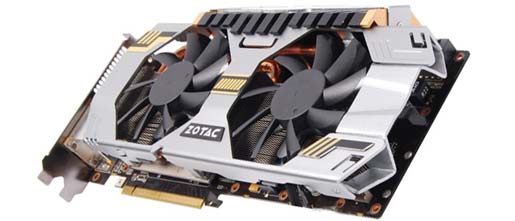 No doubt the engineers at ZOTAC have noticed the nice bang4watt metric, quietness, relatively low power-draw and cool running of the GTX 680 and thought it would be not such a mountain to climb to significantly overclock this card with its "Extreme Edition." There has been talk of ZOTAC making a 2GHz edition, but this 1.4GHz Extreme Edition is coming to market (hopefully not just the Asia Pacific area) and has been demonstrated in a video. (pop your Babel fish in your ear to watch that).

To ensure smooth running of these overclocked GTX 680s ZOTAC has used very high quality/spec components on the card; a top tier binned GPU, high-grade GDDR5 memory by Hynix, server-grade Tantalum capacitors, etc. It's power-managed by the CHiL CHL8318 VRM controller. It comes with a USB control module that fits in a spare 3.5in or 5.25in bay with hardware control and diagnostic information display. The mini-USB control on the card lets the

worryingly named

"Firestorm" overclocking software more directly monitor and control the GTX 680 Extreme Edition.

With 'standard' GTX 680 cards costing around £400 in the UK, this ZOTAC GTX 680 Extreme Edition is going to cost quite a bundle of cash, it's not just the card with higher-spec. components but also the additional drive-bay hardware and bleeding-edge performance to consider. It will be interesting to see how far this card can go in reaching towards 2GHz core clocks and seeing what the price premium is when it comes to market. A rival GTX 680 card by EVGA has been announced to be immediately available and even though it includes hydro-copper waterblock cooling the boost clock is, at 1,215MHz, significantly less than this ZOTAC GTX 680 Extreme Edition.