If you like to keep your PC looking all WHQL-certified, you might have been waiting since October 2011 for a new NVIDIA driver. That's when release 285.62 arrived on the scene.
There have been numerous beta releases in the interim, but the GeForce manufacturer has finally introduced a new WHQL driver that takes us up a few notches to 295.73.
The new release, available from GeForce.com, touts performance increases in a number of games, including The Elder Scrolls V: Skyrim, which enjoys an FPS boost of over 40 per cent in certain scenarios.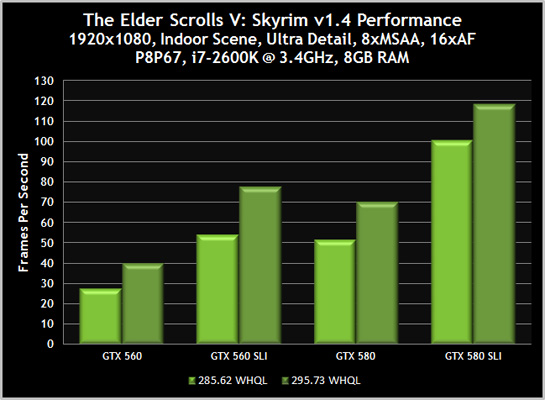 A bump in performance is always welcome - and in this case long overdue - but NVIDIA also rounds out the driver package with a couple of other noteworthy additions.
Support for Ambient Occlusion has been added for Skyrim, Diablo III and Call of Duty: Modern Warfare 3, and new SLI profiles are available for a wide range of games including the popular Mass Effect 3 demo.
Point your browser to GeForce.com for a full list of everything that's new, and remember to share your upgrade experience with other users in the comments section below.