MSI has released its N560GTX-Ti 2GD5 series of graphics cards.
Both SKUs are powered by NVIDIA's GTX 560 Ti GPU, but pack in 2,048MB GDDR5, which MSI declares increases HD gaming performance. The manufacturer's venerable Twin Frozr II cooling solution is also part of the equation, delivering a temperature advantage of up to 20° Celsius, compared to reference cooling.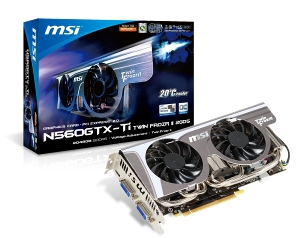 Both parts feature Military Class II components, and there's support for the Afterburner overclocking software - allowing users to squeeze out as many extra ounces performance, as possible.
The N560GTX-Ti Twin Frozr II 2GD5 comes with clock speeds of 822MHz and 4,008MHz (effective) for the GPU and memory respectively, whilst its N560GTX-Ti Twin Frozr II 2GD5/OC sibling, pushes the GPU speed up to 880MHz.