It's been a little quiet on the GeForce front so far at CES 2011, but NVIDIA is introducing something new for its 3D Vision customers: a website.
3DVisionLive.com, launched this week in beta form, is the GPU giant's attempt at an "online 3D Vision community" that makes a library of 3D content readily-available via the web.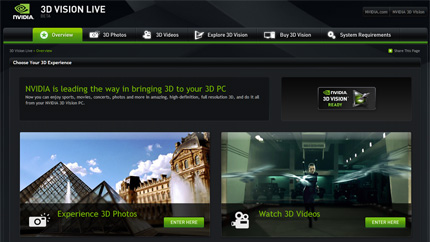 The site already features a generous selection of 3D photos and videos - all of which can be viewed in stereoscopic 3D on compatible hardware - and NVIDIA's calling on the community to help the library grow.
The photo and video libraries, powered by Phereo and Fordela, respectively, allow users to upload and share images with the community, as well as rate photos taken by others. We don't imagine Flickr will be shaking in its boots, but for anyone who has ever struggled to find freely-accessible 3D content, NVIDIA's online portal could be a treat.