We knew it would be arriving sooner or later, and now it looks like we might have the full run-down on NVIDIA's GeForce GTX 570.
Apparently, the folks at Sweclockers have managed to get their hands on a datasheet from Palit that gives complete details on the new card, including pinning down a release date - December 7.
As predicted, the GPU will be a heavily tweaked GTX 470 that brings it about in line with the GTX 480. The result is a GF110 core with the benefit of an extra 32 shaders to bring the total up to 480, on top of a number of efficiency and architecture tweaks. These have meant that the frequencies could be increased to 732MHz and 1,464MHz for the GPU and shaders, compared to 607MHz and 1,214MHz on the GTX 470.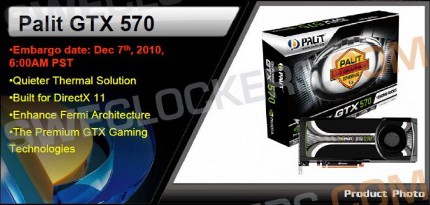 Of course, the 320-bit memory bus hasn't changed, although the 1.28GB GDDR5 has been given a speed boost up to 3,800MHz.
The result will be a card that's leaner and meaner than the GTX 470 - and even the GTX 480 - in almost every respect. Paired with a 225W TDP that only requires two six-pin PCIe power connectors and NVIDIA's fancy new vapour chamber cooler, this card should check all of the right boxes.
According to the spec sheet, the GTX 570 will be launching next Tuesday. Of course, this is only a week before AMD is planning to release the high-end Radeon HD 6900-series GPUs. A successful launch by NVIDIA could steal some of the thunder away from the new Radeons and really increase the pressure on the red team to deliver a compelling alternative.