You don't often see much differentiation straight after a high-end GPU launches, but with NVIDIA's GTX 580 out in the wild, we've already seen a handful of factory-overclocked cards. Palit made an early play at the title of world's fastest, and now EVGA is making its move with a quartet of cards.
As well as a stock variant, the company is launching two Superclocked cards that turn the core up from 772MHz to 797MHz. The increase is pretty conservative - and certainly not super - but should still provide a small performance-boost.
While one will come in standard EVGA livery, the other will be decked-out in black and emblazoned with the 'Black Ops' logo from the latest Call of Duty game. Unfortunately - and no doubt frustratingly for those who unknowingly purchase the card - the game won't be included in either physical or digital form.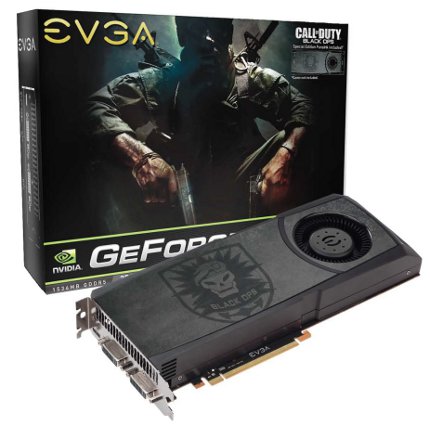 That's right - the Call of Duty: Black Ops Edition card does not include a copy of Call of Duty: Black Ops.
The real jewel in the crown is the GTX 580 FTW Hydro Copper 2, which comes pre-fitted with a single-slot water-block to keep the card nice and cool. EVGA obviously didn't waste the opportunity to push the card right to the limit and the core frequency has been increased to 850MHz, making it the fastest GTX 580 that we've seen. We're sure the cooler will also provide plenty of headroom, making even higher frequencies easily attainable.
To sweeten the deal, each of the cards - even the stock-clocked model - will entitle the owner to a free copy of the full version of 3D Mark 11 once it's released.
The base GTX 580 is available now with a recommended price of around £399, but the manufacturer hasn't released details on when the overclocked models will be available. As for pricing, EVGA is suggesting €495 (£425) for the Superclocked variant, €499 (£430) for the Black Ops Edition and a whopping €695 (£600) for the Hydro Copper 2. As ever, speed doesn't come cheap.