NVIDIA's next-generation GPU architecture, codenamed Fermi, made a few brief appearances at this week's CeBIT, and though we'll have to wait until March 26 for an official unveiling, the graphics giant has teased its upcoming high-end solution, the GeForce GTX 480, in a surprise YouTube video.
The clip, featuring NVIDIA's director of technical marketing Tom Petersen, shows a GeForce GTX 480 running in a high-end Intel X58 system equipped with a Core i7 960 processor. After a brief explanation of DirectX 11, particularly the goodness on offer from hardware tessellation, Petersen, who ran through 'Fermi's' features in a HEXUS.tv show, provides a performance comparison between the GeForce GTX 480 and AMD's ATI Radeon HD 5870 using the Unigine 'Heaven' benchmark.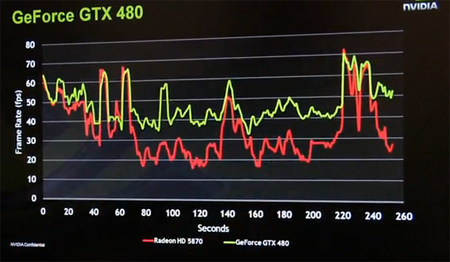 Of course, any benchmark originating from a manufacturer needs to be taken with a pinch of salt, but NVIDIA's graph suggests the GeForce GTX 480 is superior - that is, at least when heavy tessellation comes into play.
What's interesting is that most users may have thought the GeForce GTX 480 would dethrone the current king - AMD's ATI Radeon HD 5970 - as the fastest single graphics card available. If this evidence is anything to go by, those beliefs may be cast into doubt - as the GeForce GTX 480 looks to be ahead of a Radeon HD 5870 when tessellation is heavily utilised, but almost on par at other times.
We won't doubt a card with some three billion transistors, but to say we're eager to get it into our labs to see what it really can do would be an understatement.
The entire video clip, which also includes a brief look at GeForce 3D Vision Surround, can be viewed below.