Just a touch under a month ago, NVIDIA and Adobe hoped to kick start the GPGPU (general-purpose computing on graphics processing units) market with the launch of the GPU-accelerated Creative Suite 4.
Back then, we joked that it wouldn't be long until we set our eyes on a GeForce 10,000 GT Photoshop Edition, and we've now got the next best thing; the NVIDIA Quadro CX.
The Quadro CX is a GPU architected to deliver the best performance for the new GPU-optimised features of Adobe Creative Suite 4, says NVIDIA.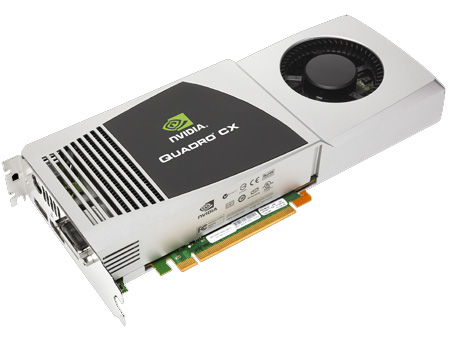 The card features 192 stream processors - which NVIDIA now calls "CUDA Parallel Processor Cores" - 1.5GB of DDR3 memory and a 384-bit memory interface. Sounds a lot like a repackaged GeForce GTX 260, but the catch is that only Quadro GPUs can provide GPU-accelerated video processing in applications such as After Effects CS4 and Premier Pro CS4.
NVIDIA lists the Quadro CX's key Creative Suite 4 enhancements as follows:
Adobe Photoshop® CS4 uses NVIDIA Quadro CX GPU to bring unprecedented fluidity to image navigation. The GPU enables real-time image rotation, zooming, and panning, and makes changes to the view instantaneous and smooth. Adobe Photoshop CS4 also taps the GPU for on-screen compositing of both 2D and 3D content, ensuring smoothly anti-aliased results regardless of zoom level. Brush resizing and brushstroke preview, 3D movement, high-dynamic-range tone mapping, and colour conversion are also accelerated by the GPU.


Adobe After Effects® CS4 now has added optimisation features to accelerate a variety of creative effects, making it easier than ever to add graphics and visual effects to video, which allows the artist to quickly move from concept to final product and speeds up the workflow. Effects accelerated include depth of field, bilateral blur effects, turbulent noise such as flowing water or waving flags, and cartoon effects. NVIDIA Quadro CX takes advantages of these workflow enhancements.


Adobe Premiere Pro CS4 can take advantage of Quadro CX to accelerate high-quality video effects such as motion, opacity, colour, and image distortion. Quadro CX also enables faster editing of multiple high-definition video streams and graphic overlays and provides a variety of video output choices for high-quality preview, including DisplayPort, component TV, or uncompressed 10-bit or 12-bit SDI.
We can't see it catching on with the everyday user, but if you're working with Adobe's Creative Suite 4 on a daily basis and require every ounce of extra performance, the Quadro CX can be yours for $1,999.
Official press release: NVIDIA INTRODUCES NVIDIA QUADRO CX - THE ACCELERATOR FOR ADOBE CREATIVE SUITE 4
Official product page: NVIDIA.com