Taiwan-based GIGABYTE will soon be joining PowerColor with a passively-cooled derivative of AMD's Radeon HD 4850 graphics card.
The dual-slot card, model number GV-R485MC-1GH, features 1GB of GDDR3 and AMD's reference clocks - that's 625MHz for the GPU and an effective 2,000MHz for the memory.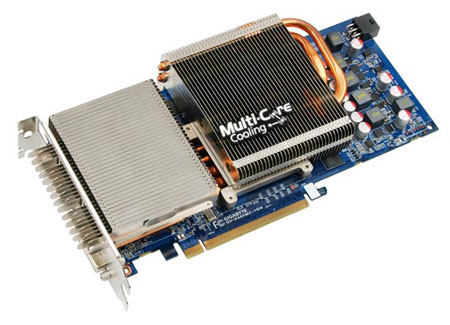 GIGABYTE will use its own Multi-Core Cooling technology - seen previously on its passive GeForce 9600 GT - which uses a series of ultra-thin layered fins with nodes of copper to help heat conduction. GIGABYTE claims that Multi-Core Cooling provides temperatures of up to 7°C lower than fan-based cooling, but it remains to be seen if that holds true for the Radeon HD 4850.
Pricing and availability remains unknown, but the promise of passive Radeon HD 4850 graphics cards bodes well for those who enjoy silent computing.
Official product page (Taiwanese): gigabyte.tw