In its ongoing effort to eradicate high-end air cooling, Asetek has today announced that its LCLC liquid-cooling solution will be available to OEMs looking to quietly cool AMD's Radeon HD 4870 X2.
HEXUS found the all-conquering Radeon HD 4870 X2 to be far and away the world's fastest consumer graphics card, but it isn't without its problems. Though the card's jaw-dropping numbers leave the competition in its wake, it does so with load temperatures edging toward 100°C and power-draw at a whopping 289W.
Asetek's LCLC should solve the heat problem, and the California-based thermal solution provider promises to lower Radeon HD 4870 X2 temperatures by up to 28 degrees.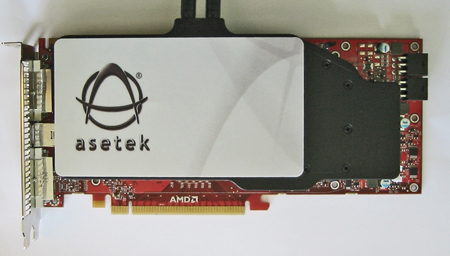 That isn't the only good news, either. Asetek's slim all-in-one LCLC solution will use only a single slot, or just two PCI slots in CrossFire configuration. It's quiet, too, with only the system heat exchanger fan making any audible noise, and even that's a relatively quiet 30 dB.
It's exactly what the Radeon HD 4870 X2 needs, but there's a problem. Asetek's LCLC solution remains OEM-only, and won't be available as a standalone cooler. We're certain it won't be long until high-end system manufacturers adopt the cooler for their Radeon HD 4870 X2-based machines, but we'd love to be able to buy the cooler itself.
Gary Baum, Asetek's senior vice president of marketing, said:
The days of computers that sound like jet aircraft taking off are over. Our award-winning, LCLC provides worry-free, aggressive thermal management for advanced gaming and graphics-intensive applications - especially those using multiple GPUs like AMD's latest R700-based graphics cards.
Official press release
ASETEK FIRST TO COOL AMD'S NEW ATI RADEON HD 4870 X2 DUAL GRAPHICS PROCESSOR CARDS
Related reading
Asetek announces liquid-cooling for AMD and NVIDIA's latest
Asetek aims to eradicate high-end air cooling