Chassis and cooling specialist NZXT has announced both new and refreshed all-in-one (AiO) liquid cooler designs. The Kraken X52 is an all-new design, while the Kraken X42 and Kraken X62 build upon previous popular AiO coolers from NZXT. All the designs were built with cooperation from Asetek and use this firm's newest technology such as its 5th generation pump and 'unique radiators', said to be optimised for NZXT's Aer P static pressure fans. Kraken AiO coolers feature NZXT's HUE+ lighting.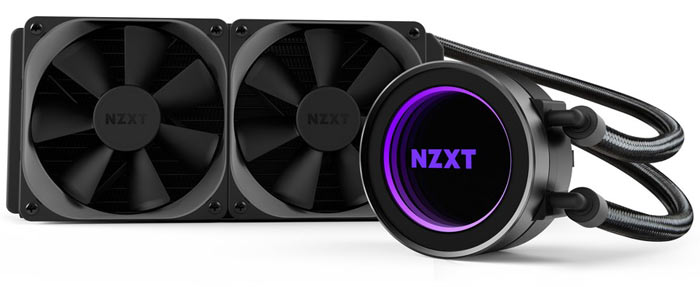 The new NZXT Kraken X52 AiO cooler
Highlights of the entire range of new Kraken AiO coolers are as follows:
Redesigned quieter pump: Embrace the silence
CAM powered pump and fan speed controls: Full control to cool your way
All-new Aer P fans: Built for cooling perfection
Reinforced tubing: Nylon enhanced for added protection
Advanced RGB lighting effects: Informative and fun
Industry leading 6-year warranty
Summarising the new AiO cooling product trio; the Kraken X42 is a single Aer P140 (140mm) fan/rad design, the Kraken X52 is a twin Aer P120 (120mm) fan/rad design, and the Kraken X62 sits atop of the range with a twin Aer P140 fan/radiator combination. As detailed above, all these products include CAM powered pump and fan controls and advanced lighting effects. Aer fan units are said to generate between 21-38dBA noise levels when spun up. Fans can be equipped with colour trim for a small extra outlay (red, blue or white).

Kraken X62, and X42 AiO coolers
The pump and fans can operate in Silent / Performance / Custom / Manual modes and there are a plethora of lighting modes too. NZXT has devised Fixed, Breathing, Fading, Marquee, Covering Marquee, Pulse, Spectrum Wave, Alternating, Tai Chi, Water Cooler, and Loading LED presets but the lighting can react to 'smart' and 'audio' events too if you wish.
UK availability is scheduled ahead of mid-November and recommended pricing of the Kraken X42, X52, and X62 is £109.99, £129.99, and £139.99 respectively. US customers can pre-order now, with shipment from early November, and pricing for them is set at $129.99, $149.99, and $159.99 (plus sales tax) respectively.