Nvidia has announced DLSS 2.0 which it touts as "a big leap in AI rendering". The whole point of DLSS (Deep Learning Super Sampling) is that GPUs can process fewer pixels and then use AI to construct sharp, higher resolution images. This means faster, more efficient performance - and Nvidia believes it has made great strides towards this vision with DLSS 2.0.
Key changes with DLSS 2.0 include; superior image quality, scaling across all RTX GPUs and resolutions, one AI network for all games, and a choice of three images quality modes. Tackling the first of these, Nvidia asserts that "DLSS 2.0 offers image quality comparable to native resolution while rendering only one quarter to one half of the pixels." The graphics chip maker adds that "new temporal feedback techniques," are employed by DLSS 2.0 and this produces sharper imagery with greater stability from frame to frame.

Another important change is that DLSS 2.0 is now more widely useable. All GeForce RTX GPUs and all resolutions can use the new tech. Furthermore, Nvidia claims its new AI network uses your Tensor cores "to execute 2X faster than the original". Nvidia DLSS 2.0 is now trained using non-game-specific content. This means faster game integrations and more DLSS games will emerge.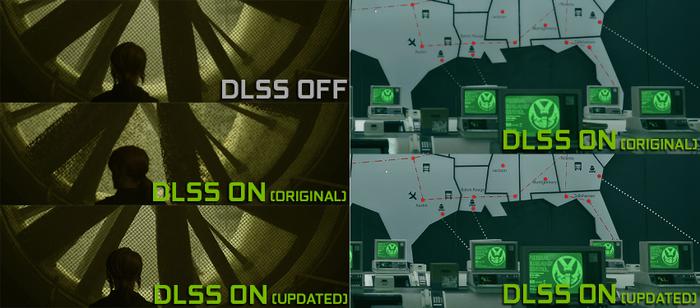 Control graphics samples; DLSS 2.0 compared, click to zoom
A control panel allows the end user to switch between 'Quality, Balanced, or Performance' modes of DLSS 2.0. These control the game's internal rendering resolution and in Performance mode, for example, the scaling factor is 4X which would render a game at 1080p and AI scale it to 2160p for your 4K UHD monitor.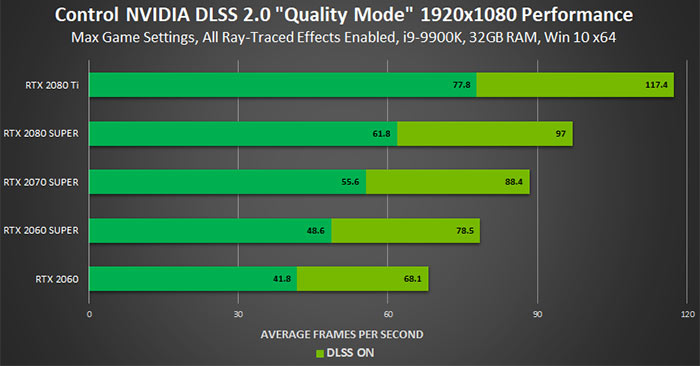 Happily this isn't just a paper launch and DLSS 2.0 is enabled by the latest Nvidia GeForce driver and a selection of games can already use the technology. Deliver Us The Moon, Wolfenstein: Youngblood, and MechWarrior 5: Mercenaries are all DLSS 2.0 enabled now and Control will receive a patch on Thursday to enable DLSS 2.0.
If you head on over to the Nvidia blog it talks about specific game performance with DLSS 2.0 on (with graphics comparing Quality, Balanced, and Performance modes), provides images samples, and some videos too. I've embedded a selection of these here too, above, for your convenience.