As you're already aware, NVIDIA is preparing to counter the ever-growing threat of AMD's recently-benchmarked Radeon HD 4850 and forthcoming HD 4870 with its 55nm GeForce 9800 GTX+.
We're expecting the suped-up card to land sometime in July, but Inno3D is hot out of the gate with the announcement of its own 9800 GTX+.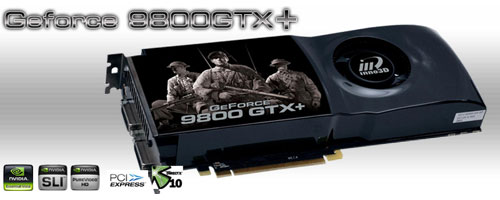 Sadly, those of you waiting for a super-suped-up Accelero Xtreme will be left waiting a little longer. Inno3D's launch 9800 GTX+ offers NVIDIA's reference clock speeds of 738MHz core and 1836MHz shader. The 512MiBs of GDDR3 memory, however, clocks in at 2,200MHz, 200MHz higher than NVIDIA's reference spec.
NVIDIA is preparing drivers that'll add PhysX support to coincide with the 9800 GTX+ launch and Inno3D promises the card will be around 15 per cent faster than the soon-to-be-cheaper 9800 GTX.
There's no confirmed release date just yet, but pricing is expected to be at around $229. It's going to be a good ol' race for the mid to high-end performance crown, stay tuned as we'll be putting a 9800GTX+ up against AMD's HD 4000 series.
Official press release: Inno3D GeForce 9800GTX+, it just got better!