There are rumours swirling of Nvidia bolstering its GeForce GTX 16 series of graphics cards by not just one - but two new models. The last time we heard about the GTX 1650 Ti was back in April, and it has reared its head again. Meanwhile, something we haven't heard of before - the GeForce GTX 1660 Super, is rumoured to be launched alongside that card.
GeForce GTX 1660 Super
According to the story source, the GTX 1660 Super will be based upon the same TU116 GPU as the GeForce GTX 1660 and GTX 1660 Ti. As you might expect from the nomenclature, the new 'Super' card sits between the existing GTX 1660 and GTX 1660 Ti.
It is claimed that the Nvidia GeForce GTX 1660 Super will sport 1408 CUDA cores and a 192-bit memory bus, like the GTX 1660. However, it will gain the edge by using 6GB of GDDR6 memory running at 14Gbps – like the GTX 1660 Ti.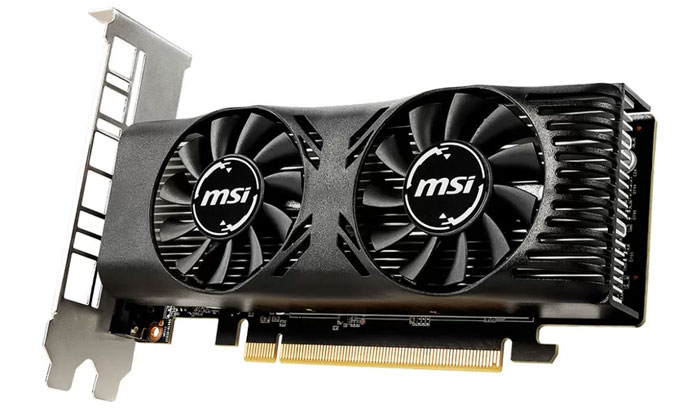 An MSI GeForce GTX 1650 LP
GeForce GTX 1650 Ti
This card will employ the TU117 GPU, according to the rumours. Nvidia will up the CUDA core count compared to the GTX 1650 from 896 to between 1024 and 1152. This card comes packing 4GB of GDDR5 memory.
It is thought that Nvidia is proliferating products in this market segment, ready to spoil AMD's upcoming launch of Navi 14 GPU based graphics cards – which one would expect to tread on the existing GTX 16 series toes.
VideoCardz reported these rumours but wasn't able to confirm them, so it is worth adding a pinch of salt to the above.