AMD has published an insightful blog post touching on topics which will be of interest to many new Radeon RX 5700 series graphics card owners, and to prospective buyers. The post, dubbed 'More Control Over GPU Power and Performance, Enhanced Thermal Monitoring, Maximized Performance', was penned by Lead Product Management for the Radeon RX 5000 Navi Series of GPUs, Mithun Chandrasekhar.
Granular DPM state adjustments
After a brief preamble about the all-new RDNA gaming architecture and new software features and talking about his hopes about "reinvigorating the GPU market," Chandrasekhar starts to talk about the granular DPM (Dynamic Power Management) states available to uses of these first Navi GPUs.
If you have an older Radeon GPU and have used WattMan you will be aware of the DPM steps you can adjust. The may be 8 or so available for you to slide adjust voltage depending upon the frequency. While welcome, the DPM states or Vf points were identical for every single GPU within a SKU family - which isn't ideal for finding optimum state sweet spots.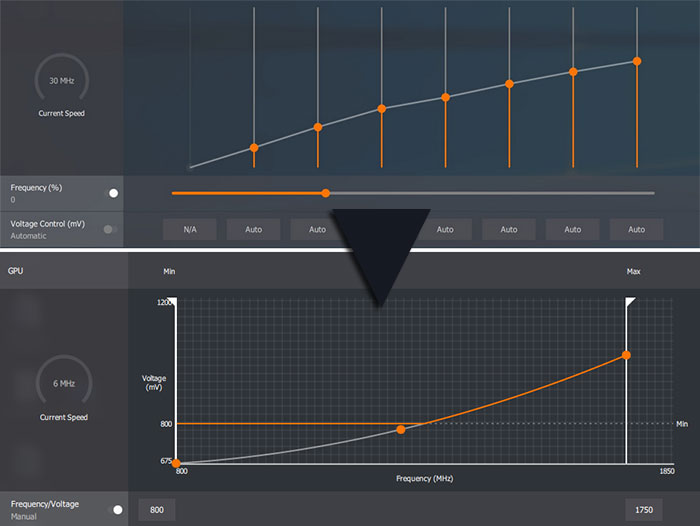 From steps to curves
With the AMD Radeon VII, and further optimised and refined with the Radeon RX 5700 series GPUs, AMD has implemented a much more fine grained control, and users control this, if they wish, by adjusting frequency/voltage curves in WattMan. With the new granular control available, Chandrasekhar says that Navi users can "find and run at the most optimum frequency, tailored to the specific workload, electrical, thermal and acoustic conditions – down to the last MHz".
Enhanced Thermal Monitoring
AMD vastly expanded thermal monitoring hardware with Navi GPUs. Rather than a single sensor put in place "in the vicinity of the legacy thermal diode," there now exists "an extensive network of thermal sensors distributed across the entire GPU," said AMD's Chandrasekhar.
The new matrix of thermal sensors isn't just for monitoring, of course. "Instead of setting a conservative, 'worst case' throttling temperature for the entire die, the Radeon RX 5700 series GPUs will continue to opportunistically and aggressively ramp clocks until any one of the many available sensors hits the 'hotspot' or 'Junction' temperature of 110 degrees Celsius," explains Chandrasekhar. Again we have more granular control for better performance optimisation. Users have access to both average GPU temperature and junction temperatures as they wish.
Automatic performance optimisation
Last but not least AMD talks about RDNA GPU performance under typical gaming workloads. The GPUs will "automatically and opportunistically utilize all available electrical, acoustic and thermal headroom in real time to ramp clock speed and deliver improved performance," asserts Chandrasekhar. This is enacted in real-time on a per die basis, where some Navi GPUs will "exceed published Boost frequencies regularly, and with no input whatsoever from the end user".
PC enthusiasts can use Radeon WattMan for additional insight into what is happening and even apply their own tweaks to frequency, voltage, and acoustic/power limits as they see fit. However, Chandrasekhar seems to be basically highlighting that there isn't much room for general improvement using these manual methods - rather users can move the balance according to their preferences for acoustics or performance.

HEXUS has reviewed both the AMD Radeon RX 5700 XT and RX 5700 reference graphics cards and the Sapphire Radeon RX 5700 XT Pulse if you want to read more about our experience with these cards out of the box and manually tweaked.