If you have read and digested the HEXUS review of the new Nvidia GeForce RTX 2060 Super and RTX 2070 Super graphics cards you might we wondering what Nvidia's AiB partners have up their sleeves. Beyond the reference, or founders editions from Nvidia, there is the usual cavalcade of associated releases from the likes of Asus, EVGA, Gigabyte, and MSI. Of course selected AiB partner-made Nvidia RTX Super graphics cards will be reviewed here on HEXUS as and when they become available to us.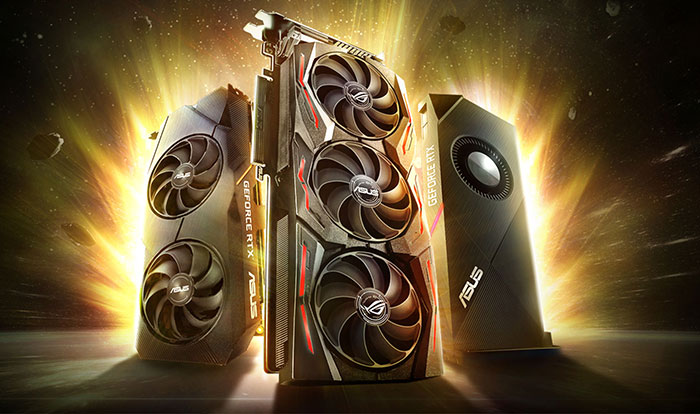 Asus has a wide selection of new GeForce RTX 2060 Super and RTX 2070 Super graphics cards for you, and it has revealed its upcoming lineup of RTX 2080 Super cards as well.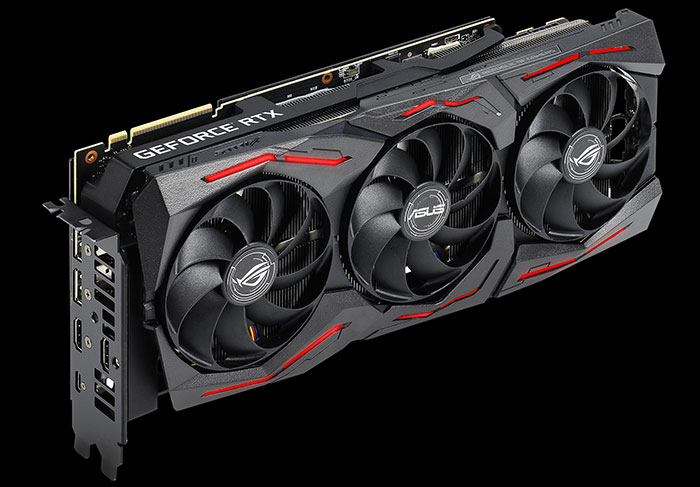 Starting at the top of the pile, there are going to be five Asus RTX 2080 Super graphics cards joining the Strix and Dual sub-families. There isn't a lot of really new stuff to see here as, in Asus' own words, the "ROG Strix RTX 2080 Super cards keep the same superb cooler and PCB design that debuted on our first top-of-the-line RTX 2080s". This will be a recurring theme.

For those who prefer more restrained designs with a single RGB strip, Asus puts forward the choice of the Dual RTX 2080 EVO cards. They use two, rather than three fans, which are paired with a less-dense fin stack over the PCB. Like the Strix range the Dual models offer a zero-dBA idle mode.

The top end ROG Strix RTX 2070 Super uses the same cooler as the RTX 2080 Super, pictured above. Then there is a choice of three Dual RTX 2070 Super cards with varying clock speeds (regular, Advanced, and OC versions). Last but not least, Asus has the blower type Turbo-RTX2070S-8G-EVO. The Turbo card uses a centrifugal blower fan to draw in case air and blow it over a fully enclosed heat sink, then out the back of the PC case. Asus promises its blower is quieter than rival efforts with its 80mm dual-ball-bearing fan.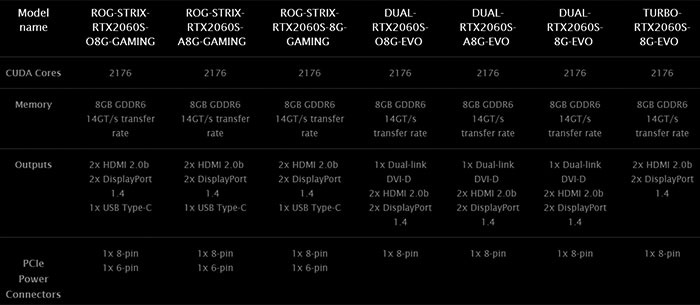 The pinnacle of Asus ROG GeForce RTX 2060 Super offerings is the ROG Strix RTX 2060 Super. This design uses the powerful cooler as featured on the ROG Strix GeForce GTX 1080 Ti. This Aura-ready design has triple fans and six heatpipes plus, as with all Strix designs, a zero-dB idle fan mode (depending on BIOS profile).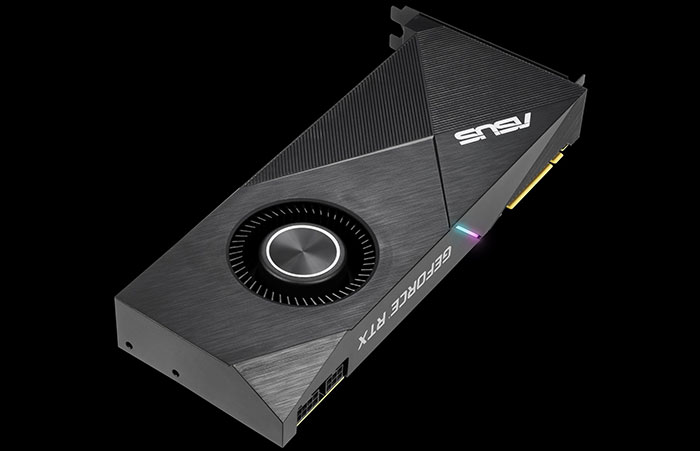 Similarly to its RTX 2070 efforts, Asus offers a trio of Strix and Dual options, with a blower type Turbo holding together the pack.
Asus isn't sharing its pricing and we will learn that on a region-by-region basis at launch on 9th July (RTX 2070 Super and RTX 2060 Super), and on 23rg July (RTX 2080 Super).
Other GeForce RTX Super launch press releases and official blog posts can be found below:

MSI's RTX Super banner