Introduction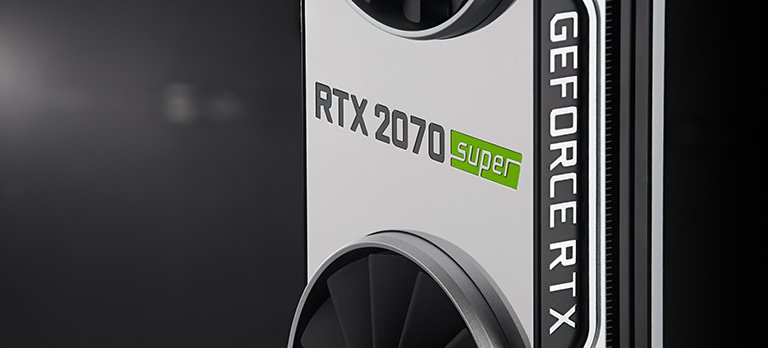 Turing Refined
Nvidia released its latest Turing architecture in September of last year, and the first boards to roll off the line were GeForce RTX 2080 and 2080 Ti. Since then, the green team has released a succession of cheaper RTX cards and a slew of GTX models that do without the RTX and Tensor cores of the premium line.
It's no secret that Turing goodness arrived in retail form a few months later than Nvidia had originally planned. June 2018, coinciding with Computex, was supposed to be the due date, but a lack of pressure from rival AMD at the expensive end of the market made it easy for RTX to come in time for the holiday season.
Fast forward about a year and RTX cards remain top dogs. Though steadily increasing the amount of RTX-specific, unique games content, most punters buy these cards for sheer rasterisation performance. That said, Nvidia has understandably been concerned with AMD's upcoming Navi-based Radeon RX 5700 and 5700 XT cards, due for release on July 7, and has thus been busy massaging the bulk of its RTX line to offer more performance for your pound.
This Turing refresh, which keeps all the original GPUs' features intact, accommodates the RTX 2060, 2070 and 2080 GPUs and is known by the 'Super' suffix. So, let's see how Nvidia has used the underlying silicon to extract more performance.
GeForce RTX to Super

RTX 2080 Ti

RTX 2080 Super

RTX 2080

RTX 2070 Super

RTX 2070

RTX 2060 Super

RTX 2060

Launch date

Sep 2018

July 2019

Sep 2018

July 2019

Oct 2018

July 2019

Jan 2019

Codename

TU102

TU104

TU104

TU104

TU106

TU106

TU106

Architecture

Turing

Turing

Turing

Turing

Turing

Turing

Turing

Process (nm)

12

12

12

12

12

12

12

Transistors (bn)

18.6

13.6

13.6

13.6

10.8

10.8

10.8

Die Size (mm²)

754

545

545

545

445

445

445

Base Clock (MHz)

1,350

1,650

1,515

1,605

1,410

1,470

1,365

Boost Clock (MHz)

1,545

1,815

1,710

1,770

1,620

1,650

1,680

Founders Edition Clock (MHz)

1,635

1,815

1,800

1,770

1,710

1,650

1,680

Shaders

4,352

3,072

2,944

2,560

2,304

2,176

1,920

GFLOPS

13,448

11,151

10,068

9,062

7,465

7,181

6,221

Founders Edition GFLOPS

14,231

11,151

10,598

9,062

7,880

7,181

6,221

Tensor Cores

544

384

368

320

288

272

240

RT Cores

68

48

46

40

36

34

30

Memory Size

11GB

8GB

8GB

8GB

8GB

8GB

6GB

Memory Bus

352-bit

256-bit

256-bit

256-bit

256-bit

256-bit

192-bit

Memory Type

GDDR6

GDDR6

GDDR6

GDDR6

GDDR6

GDDR6

GDDR6

Memory Clock

14Gbps

15.5Gbps

14Gbps

14Gbps

14Gbps

14Gbps

14Gbps

Memory Bandwidth

616

496

448

448

448

448

336

ROPs

88

64

64

64

64

64

48

Texture Units

272

192

184

160

144

136

120

L2 cache (KB)

5,632

4,096

4,096

4,096

4,096

4,096

3,072

Power Connector

8-pin + 8-pin

8-pin + 6-pin

8-pin + 6-pin

8-pin + 6-pin

8-pin

8-pin

8-pin

TDP (watts)

250

250

215

215

175

175

160

Founders Edition TDP (watts)

260

250

225

215

185

175

160

Suggested MSRP

$999

$699

$699

$499

$499

$399

$349

Founders Edition MSRP

$1,199

$699

$799

$499

$599

$399

$349
Analysis
Housekeeping out of the way first. RTX 2060 Super and RTX 2070 Super cards, both in Founders Edition livery, are reviewed today and on pre-order until shipping on July 9.
Partner cards for both GPUs have a review embargo until July 9, with stock availability expected the same day. It's clear that Nvidia, through its Founders Edition, available directly from its web-store, wants the lion's share of the sales from the get-go, and there's nothing partners can do about it this week.
The upshot of having Super cards is that the regular models will disappear fairly quickly; Nvidia has been supplying the revised GPUs to partners for a short while, whilst stopping deliveries of non-Super silicon. This perhaps means you'll be able to pick up a good deal on a regular card in the weeks to come.
Also worth mentioning is that there will be only one version of each die, meaning that it will stop the practise of having stock and overclocking-only silicon, priced at different levels to partners.
GeForce RTX 2060 Super
You know, the original RTX 2060 was a painful GPU for Nvidia to produce. It used the same TU106 die as the faster RTX 2070 but hamstrung performance by having only 6GB of GDDR6 memory running through a restricted 192-bit bus. It also carried far fewer shaders. A crippled RTX 2070, then.
The year or so since Turing's launch has enabled Nvidia and foundry partner TSMC to optimise the 12nm process and increase yields to the extent where more TU106 GPUs make the RTX 2070-like grade. It's this thinking that brings RTX 2060 Super to the table.
This Super model is far more like the extant RTX 2070. It upgrades the memory system to a matching 8GB and 256-bit bus, keeps the speed at 14Gbps, so there's plenty of bandwidth and size. The 2GB increase is arguably this GPU's most important feature given that most will task it with high-quality QHD gaming that can saturate a 6GB buffer.
Up top, 34 of the 2070's 36 SMs remain in place, pushing the total number of shaders up to 2,176. Speeds are decent, too, so, on paper, this new GPU is an RTX 2070 Lite in all but name.
The benefit to the consumer is a lower street price of $399, compared to the original $499 for RTX 2070 and $599 for the Founders Edition. In an illuminating admission, Nvidia reckoned that charging a $100 more for the FE card was, perhaps, not the wisest of moves, and this is why you'll see no premium on any new FE model.
Appreciating how boost speeds work, one can expect the RTX 2060 FE to run at about the same speed as the slowest RTX 2070 partner card. Begs the question as to why Nvidia didn't just reduce the price of the RTX 2070 by that hundred bucks and be done with it?
GeForce RTX 2070 Super
The RTX 2070 Super doesn't take the same tack as the RTX 2060 version because the TU106 die cannot be squeezed for more performance. This time, the Super card takes the RTX 2080's larger, more powerful TU104 die and pulls the same refresh trick. Vital stats show that it's a core-reduced version of the existing RTX 2080. You now get 2,560 shaders (40 SMs) instead of 46, speeds are a bit different, but everything else is the same.
Again, the idea is to leverage ever-increasing efficiency gains at the fab plant to create higher-performing cards bearing the same name. This Super clearly has more in common with RTX 2080 than RTX 2070, and one can assume it will benchmark at around 90-95 per cent of the former's level.
Remember that the original RTX 2080 cost from $699 and the FE weighed in at $799. Rival AMD got reasonably close to its performance with its Radeon VII behemoth of a GPU, but the benefit of 2070 Super is that it ought to generally match AMD's best card at a much lower price point. Both partner and FE cards will be available from $499, of course, representing a serious pricing cut a year in.
One can still argue that Nvidia could easily have shaved a couple of hundred bucks off the RTX 2080 pricing and be in the same position, without having to herald Super cards into the mix. Yet nothing sells like a 'new' GPU. Put simply, think of RTX 2070 Super as a slower version of the RTX 2080.
GeForce RTX 2080 Super
Nvidia understands that it needs to bridge the performance gap between RTX 2080 and the champion RTX 2080 Ti, which is in a class of its own. It has a full complement of 48 SMs, making the most of the full TU104 die, and therefore runs with 3,072 shaders running at a peak speed of 1,815MHz. The maths tells us there's just over 11TFLOPS of compute on tap.
The memory speed also gets a healthy increase by using GDDR6 modules rated at 15.5Gbps instead of the common 14Gbps seen elsewhere on RTX. Adding cores and faster memory bumps the overall board power to 250W, mind.
One can therefore expect an extra 10 per cent performance over regular RTX 2080, bringing it closer to RTX 2080 Ti, which will remain unchanged and unchallenged this year as the best-in-class GPU. Pricing for both regular and FE 2080 Supers will start at $699.
Summary - a pre-emptive strike
It's clear that the release of a trio of Super models - based on existing Turing technology and galvanised by more performance - has, if you excuse the pun, always been on the cards. Nvidia probably knew of the likely performance of rival Radeon RX 5700 and XT cards and therefore planned to deliberately upstage AMD days before its own launch.
The very fact that RTX Super comes in the same week, albeit crucially before, the Navi pair is the green team saying that it has plenty of firepower left in the Turing cannon. Reading between the lines, it doesn't need a leading-edge 7nm process to be more than competitive against whatever AMD can throw.
It's telling that during the E3 tradeshow Nvidia was pleasantly surprised by the premium pricing of AMD's Navi cards, so much so that, inside the ropes, some felt these Super cards weren't needed at all. What we do know is that Nvidia's partners will have a full roster of Super cards before AMD's can get their competing models out of the door.