You might have already read the news and digested the facts behind the GeForce GTX 1650 launch, by Nvidia, at 2pm today. As mentioned in our overview article, it was odd that Nvidia chose not to supply drivers for these cards to reviewers ahead of launch, but everyone is in the same boat, and the drivers are now available (ready for Mortal Kombat 11 and GTX 16 laptops too). So, while others are busy in the HEXUS labs putting various GeForce GTX 1650 cards through their paces, let us have a quick look at the wide range of options that are being made available by AiBs.
EVGA
EVGA has six GeForce GTX 1650 models to choose from initially. Its top model is the EVGA GeForce GTX 1650 XC Ultra. This card comes with a dual-fan cooler and an all-metal backplate. Its boost clock is 1875MHz, perhaps the highest of all revealed today.
Elsewhere in the EVGA GTX 1650 stables you will the twin fan SC models, and single fan XC models. Whichever you choose you can enjoy up to 3x the performance of GeForce GTX 950, or up to 70 per cent higher performance when compared to the GeForce GTX 1050, says EVGA.
Gigabyte
Gigabyte has launched four GeForce GTX 1650 variants today. The Taiwanese PCs, components, and accessories maker hopes you will choose one of its models for your next entry-mid range graphics card. You can choose from the GeForce GTX 1650 Gaming OC 4G, GTX 1650 Windforce OC 4G G, GTX 1650 OC 4G, or GTX 1650 Mini-ITX OC 4G.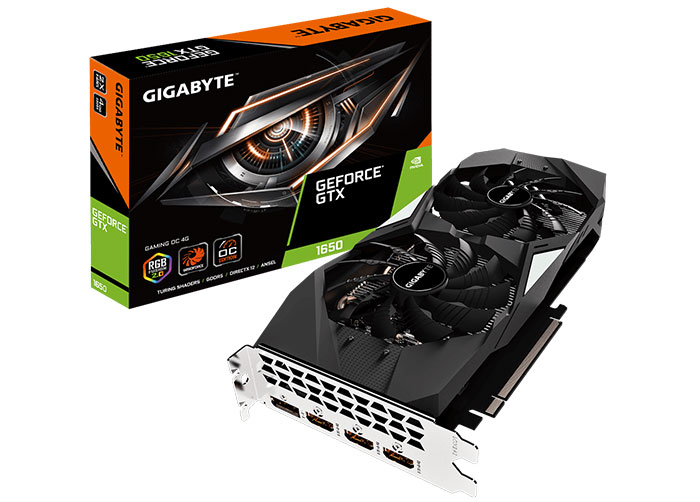 The top model from Gigabyte is the GeForce GTX 1650 Gaming OC 4G which features a 2x 100mm Windforce cooler with alternate spinning fans and a heatsink (with composite heatpipes) which covers the GPU, VRAM and MOSFET areas. Gigabyte's best GTX 1650 has a boost clock of 1815MHz (reference card is 1665MHz). This 3x HDMI and 1x DP card also features RGB Fusion 2.0, ultra durable components and a back plate.
Moving down the pecking order, the entry level card from Gigabyte is a single fan Mini ITX solution which measures just 17cm long.

Palit
Palit has a sextet of GeForce GTX 1650 graphics cards available. If you've followed recent GTX series releases from Palit you won't be surprised to see Dual and StormX series here. The top performer, going by boost clocks is the Palit GeForce GTX 1650 Dual OC which offers a base/boost of 1485MHz / 1815MHz. All the StormX products are compact single-fan cooler equipped.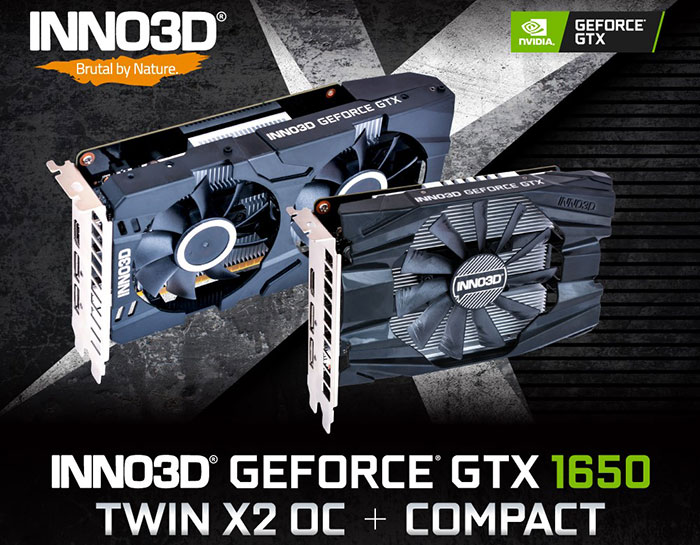 Inno3D
Inno3D offers a choice between the GeForce GTX 1650 Twin X2 OC and GeForce GTX 1650 Compact. These are dual-and single-fan cooled cards with boost clocks of 1710MHz and 1665MHz, respectively.
Asus
Asus emailed HEXUS with details of additions to its seven new ROG Strix, Dual, and Phoenix products. Its highest-spec offering among the crop is the ROG Strix GeForce GTX 1650 OC edition. This card features a wing-blade fan design for reduced drag, 0dB technology, DirectCU II copper heatpipes, IP5X dust resistance, Super Alloy Power II, and is built using Asus Auto-Extreme Technology. Its GPU boost frequency is 1860MHz in OC mode, or 1830MHz in the default gaming mode.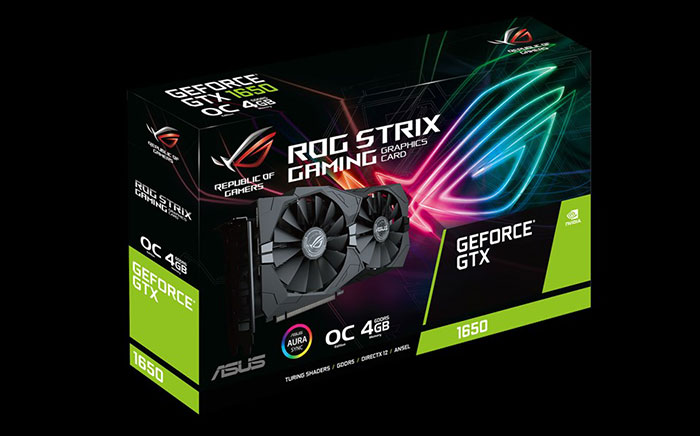 Asus makes more affordable dual-fan cooled cards in the shape of the Dual series, and for the cheapest price and most compact form you might find the Phoenix cards appeal.