Evidence of an Nvidia GTX 16 series card slotting underneath the recently launched GTX 1660 Ti and GTX 1660 has been piling up in recent weeks. We saw the packaging artwork in late Feb, followed by EEC manifests, benchmarks, a leaked Acer laptop slide, and related MSI promotional literature over the last few weeks. Today graphics card leaks specialist site VideoCardz has graced the internet with a couple of very revealing stories regarding the tech specs of the upcoming GTX 1650, its launch date, and retail pricing.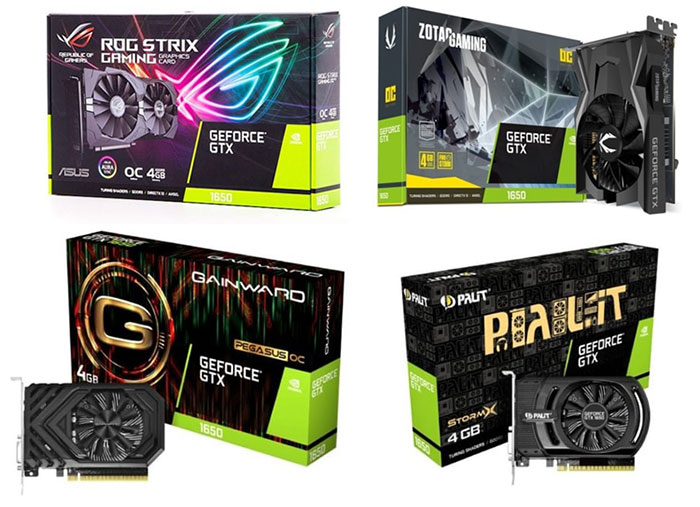 According to VideoCardz sources the tech specs of the GTX 1650 will be "slightly better than we expected". Rather than the rumoured 768 CUDA cores, the upcoming graphics cards bearing this designation will "sport 896 unified processors," says the site. Nvidia has decided to clock the GPU reference design at a base/boost of 1486/1665MHz.
Some PC builders will be pleased to hear that a standard GTX 1650 doesn't need any power connectors, and has an official TDP of 75W, however some AiB OC cards will sport a 6-pin power connector.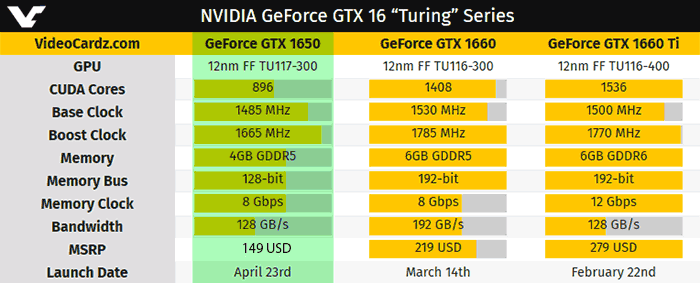 Updated version of VideoCardz' features comparison table
Moving onto the all-important factors of pricing and availability, VideoCardz claims that the new GTX 1650 will arrive with an MSRP of US$149. That suggested US Dollar pricing for a reference model hasn't translated that well into European pricing as you can see from the Amazon France screen grab below (listings have since taken down). Of course, like UK retailers, Amazon France will have added 20 per cent VAT to its prices, while the US figure doesn't include sales tax as it varies from state-to-state. MSRP for 'reference' models in the UK will be around £149 inc VAT, I estimate.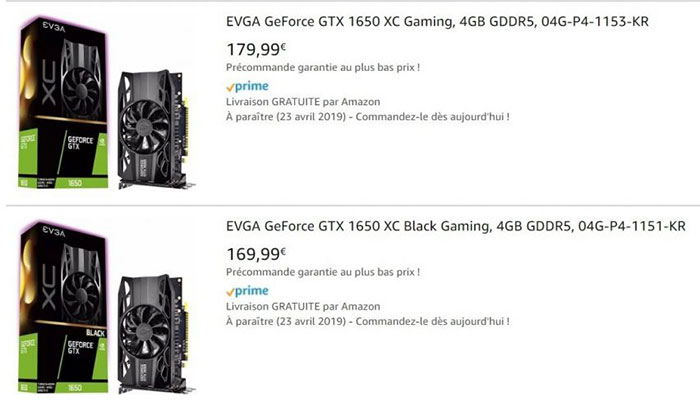 Finally, VideoCardz has put forward a launch date of 23rd April. That is next Tuesday, the day after the Easter Monday holiday. That isn't far off, so you won't have to wait long to find out whether it is correct, or not. Whatever the case, stay tuned to HEXUS for impartial and thorough reviews of the latest graphics cards from green, red, or blue teams - as and when they launch.