The as yet unannounced Nvidia GeForce GTX 1650 was spotted going through the EEC trading area about 10 days ago. This SKU will complete the GTX 16 series for now, unless the earlier rumoured 3GB GTX 1660 (Ti) cards start rolling out at the same time. In our previous GTX 1650 story we predicted the "3DMark, Geekbench, AoTS and / or FFXV scores," would be next in the leaky trail of this graphics card to launch date, and today the eagle eyed Tum Apisak shared the fact that he had spotted this very GPU in the official Final Fantasy XV online benchmarks database.
If you head on over to the FFXV benchmarks page you will find reference to an Nvidia GeForce GTX 1650 in the 1920 x 1080 High Quality, and the 2560 x 1440 Lite Quality tables. In the former table, part reproduced below, you can see that the GTX 1650's performance is somewhere between the AMD Radeon RX 570 and 580 graphics cards. Compared to previous Nvidia graphics cards it performs rather similarly to the GTX 1660 3GB version.
Moving on to the 1440p Lite Quality results, the Nvidia GeForce GTX 1650 seems to slip down the table rather drastically. Instead of rubbing shoulders with the RX 580, RX 570 and GTX 1060 cards, the new GTX 1650 finds itself sitting next to the humbler / older GeForce GTX 1050 Ti and GTX 960. Compared to AMD wares, it sits a smidgeon below the Radeon Pro Vega 20 and Radeon HD 7900 at 1440p.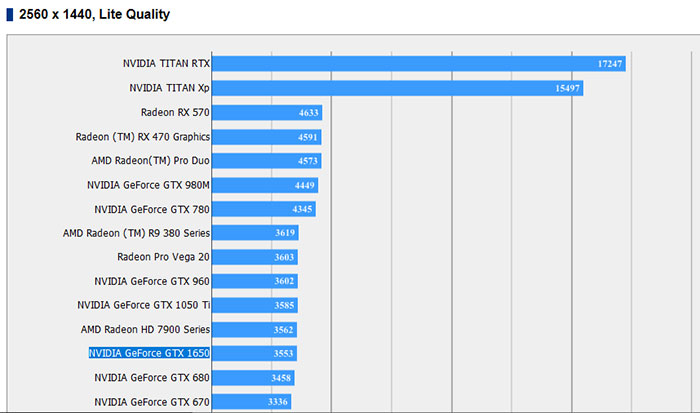 The above tests appear to confirm that the target market for the GTX 1650 is very much those interested in playing modern PC titles in 1080p.
Previously leaked information indicates that the Nvidia GeForce GTX 1650 is based upon the 12nm TU117 GPU with 768 CUDA cores. It is thought that it will come with 4GB of GDDR5 RAM on a 128-bit memory bus. Pricing should be around US$179 or equivalent.