Deep Learning Super Sampling (DLSS) has been added to Anthem in a game patch released yesterday. The co-op action game from EA / Bioware will run at up to 40 per cent faster frame rates with DLSS applied, according to a new post on the GeForce Blog. Furthermore, Nvidia's deep learning neural network supercomputers are continuing to train and optimise the DLSS in Anthem, so further optimisations are promised.
To make use of DLSS, gamers will need to own an Nvidia Turing GPU packing graphics card, more specifically one of the new cards in the RTX20 series. Another proviso, at this time, is that you have installed the latest Nvidia Game Ready Driver, you are running Windows 10 v1809 or higher, and the following screen resolutions should be used: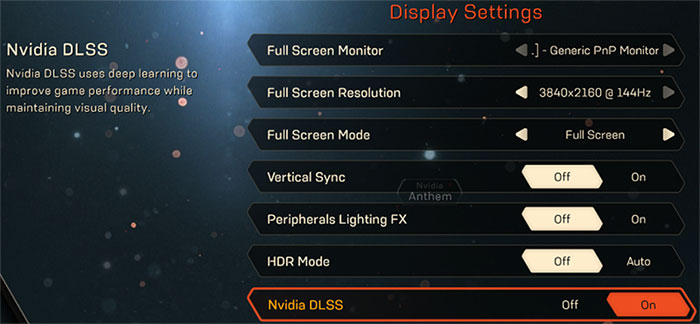 Nvidia highlights that "DLSS helps the most when the GPU is under maximum load". See the stats below for a 4K Anthem gaming session example using various GPUs.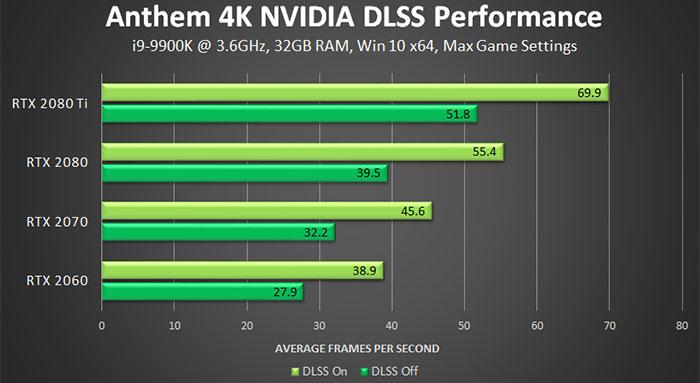 Nvidia Highlights in Anthem
If you've never used Nvidia Highlights before, it is a system that automatically captures highlight clips from your gameplay. Later you can edit and compile the clips to preserve your best moments for posterity. There is a generic but rather old tutorial about the feature here. In Anthem, Nvidia and Bioware have implemented Highlights so that it auto saves gameplay clips and screenshots encompassing the following events:
Apex Kill – Kill an Apex enemy
Boss Kill – Kill a dungeon boss
Legendary Kill – Kill a Legendary enemy
Multi Kill – Achieve 8+ kills within 10 seconds
Overlook – Interact with an Overlook point [note: captures a screenshot rather than a video]
Tomb Discovery – Interact with a sarcophagus in a tomb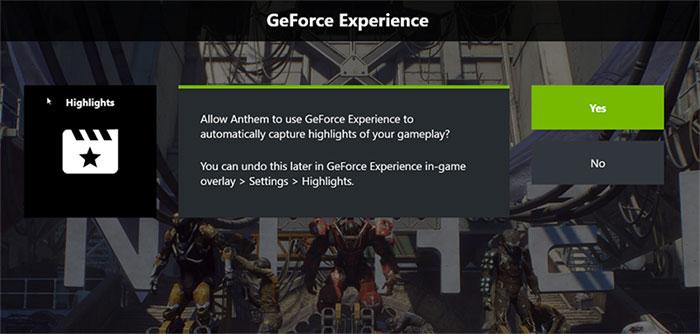 Highlights footage is easily reviewed, edited and shared via Nvidia's GeForce Experience software.