Intel is at GDC and has a number of new PC gaming innovations it wished to share with attendees. Among the highlights of Intel's GDC presence were the introduction of new Graphics Command Centre software, the inaugural event for The Odyssey enthusiast community, the announcement of the Intel GameBoost marketing program, and the announcement of new 9th Gen Intel Core mobile (H-series) processors destined for release in Q2.
Intel Graphics Command Centre
Intel Graphics has been intensively teasing a new control panel, and it is now available for download. Dubbed the Graphics Command Centre, this new application has been totally redesigned and was "built from the ground up" following community feedback.
The new application is said to be simple and offer ease-of-use, with its "modern user interface, automatic game detection and one-click game optimization". Additionally if users want to dive into advanced settings they can do do and will be aided by simple explanations and "before-and-after images to recognize how each setting will affect their hardware".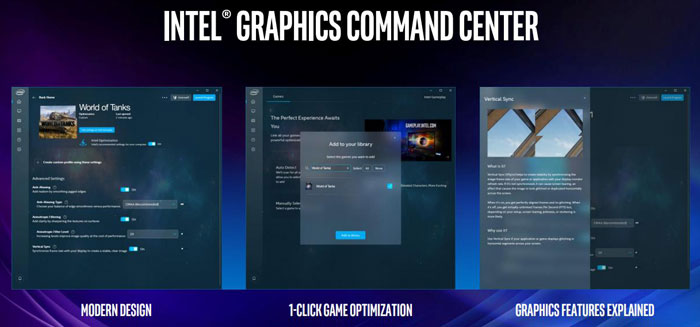 You can download the software at the following link: Intel Graphics Command Centre download page.
The Intel Graphics Command Centre software is only compatible with Intel Skylake or newer (graphics Gen9 or newer) and Intel recommends updating your graphics driver to the latest version before installing this application.
9th Gen Intel Core mobile (H-series) processors
Intel also used its GDC presence to pre-announce its 9th Gen Intel Core mobile CPUs for launch in Q2. It didn't provide any specs or details for the upcoming processor line but we grabbed some info about them already, from an Intel export compliance document leak in mid-February. The H suffix stands for 'High Performance Graphics' in established Intel nomenclature.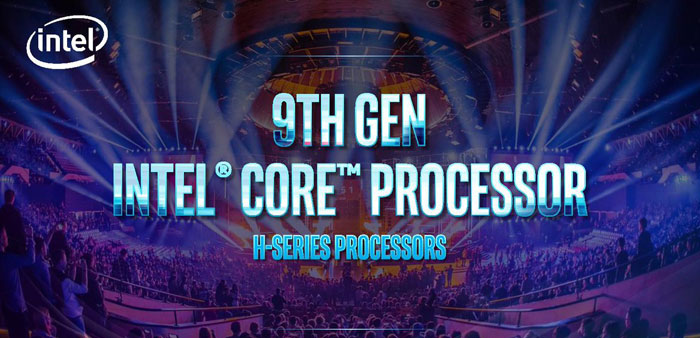 Intel claims the new processors will "power the ultimate laptops for gamers and creators" with premium performance to play, record and stream AAA games. Other important platform features are; Intel Wi-Fi 6 AX200 (Gig+) delivering the latest Wi-Fi technology, Intel Gen9.5 graphics, Thunderbolt 3 connectivity, and Intel Optane memory compatibility.
These new mobile H-series processors with up to 8 cores have been codenamed Comet Lake and will be built on Intel's 14nm process.
Other bits
The Odyssey enthusiast community has been celebrated as opening but doesn't seem to be live just yet. The community will be central to Intel customer feedback and providing beta participation for members. Meanwhile Intel GameDev Boost seeks to support developers who wish to get the best out of Intel graphics. Developers are reminded that Intel graphics feature in "1 billion PC gaming systems across more than 175 countries." Lastly, Intel is working with Spirit AI to leverage speech recognition software to moderate online chats and communications in gaming, in order to remove 'toxicity'.