Nvidia has quietly listed a pair of new GPUs for inclusion in PC laptops. If you have shopped for a thin and light laptop with a discrete GPU recently, you will have likely come across devices with GeForce MX150 or MX130 GPUs, and today we see what appear to be the successors to these parts officially listed.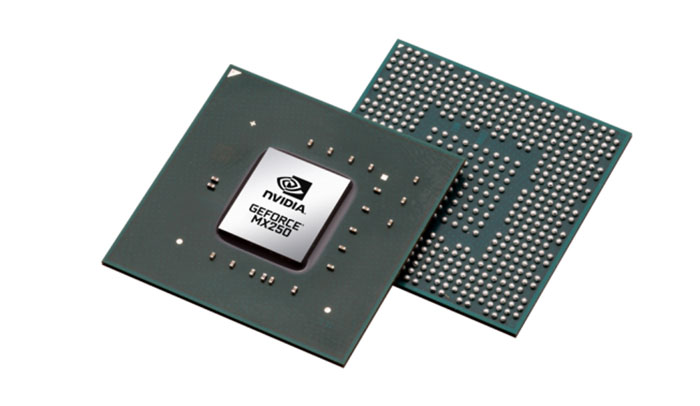 You might expect the GeForce MX230 and MX250 to represent a step up in performance and capabilities over the MX130 and MX150 but from the information shared by Nvidia they could actually perform very similarly, or even worse than their predecessors.
| | | | | | | |
| --- | --- | --- | --- | --- | --- | --- |
| GPU | GeForce Performance Score | Memory | DirectX 12 support | Vulkan Api support | GPU tech | TDP |
| MX130 | 2.5X | DDR3/GDDR5 | Yes | ? | Maxwell | 15W to 30W |
| MX150 | 4X | GDDR5 | Yes | Yes | Pascal | 10W or 25W |
| MX230 | 2.6X | GDDR5 | Yes | 1.1 | Pascal | ? |
| MX250 | 3.5X | GDDR5 | Yes | 1.1 | Pascal | ? |
In the above table I have put in the key features, as far as the info from Nvidia allows. It appears that there is expanded support in the new GPUs for OpenGL 4.6, and OpenCL 1.2 APIs too.
There was some upset / controversy with the GeForce MX150 as, after launch in May 2017, an unflagged specification change was observed a year later. NoteBookCheck noticed at the time that laptop vendors were shipping systems with significantly different GPU performance depending upon whether a GTX 150MX 'N17S-LG-A1' or '1D12' variant was installed in the machine. The common 1D12 variant sadly delivered about 20 to 25 per cent less 3D performance than a 'standard' MX150 as it was set to operate in a 10W power envelope (rather than 25W).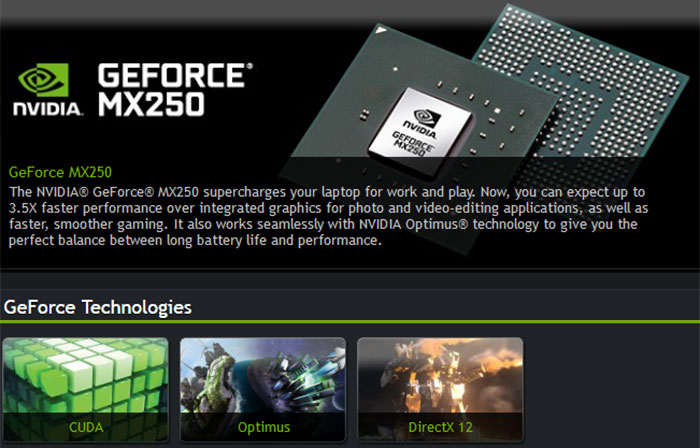 Whether Nvidia and its laptop making partners will indulge in the same nebulous product strategy, or it will be clearer now, remains to be seen. Nvidia doesn't share such information, and NoteBookCheck doesn't have information on this as yet.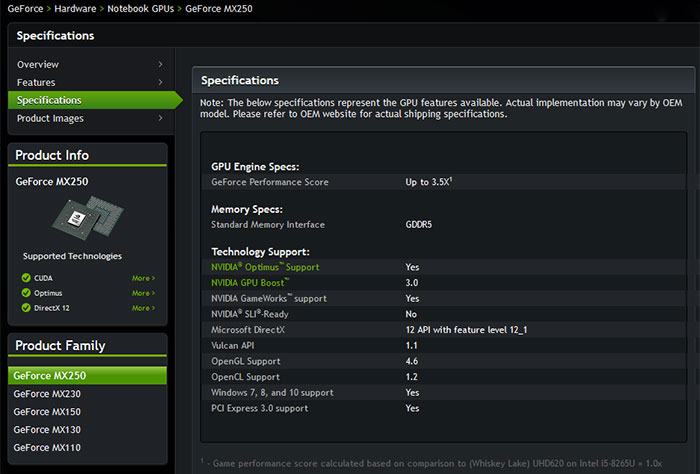 If you are shopping for a thin and light laptop featuring a GeForce MX and the GPU performance differences might be important to you, please check reviews of the actual product you are interested in, with particular attention to the GPU performance/specs, ahead of your purchase.
Back in December we spotted the first HP laptops featuring GeForce MX 250GPUs and more recently MSI PS42 8RA and PS42 8M0 machines featuring this new laptop GPU have been seen online.