Intel has been talking up its discrete GPU plans. The purpose of the recent video Tweet by @IntelGraphics appears not to be for teasing PC gamers or enthusiasts. Rather, Intel is still on the lookout for engineering talent to join its Visual Technologies Team in its quest to create a leading GPU for the future.
Don't just take any job. Join a movement. https://t.co/JH0TqASGtE #JobsatIntel #IntelCareer pic.twitter.com/y8hBPdRF88

— Intel Graphics (@IntelGraphics) January 29, 2019
I've embedded the video Tweet from Intel above, as it is worth a watch to see Raja Koduri and Bob Swann set out their stalls, outlining what they aim to achieve in a relatively short time.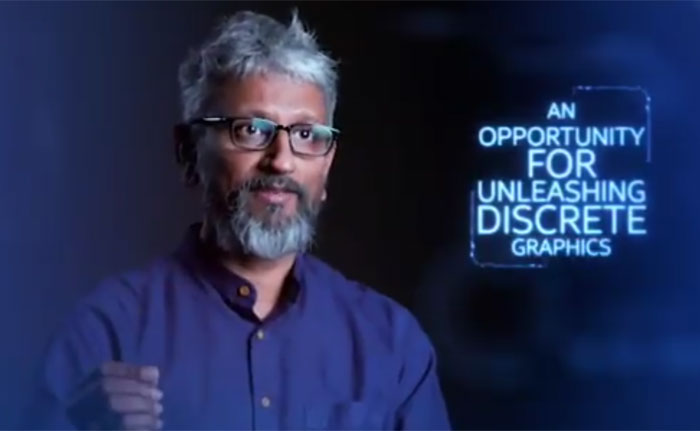 Koduri starts with a dramatic claim that his team are "starting from zero". This is an exciting opportunity, rather than a hindrance, he asserts. Koduri talks-up the capabilities of his team and goes on to explain that Intel's IP portfolio covering hardware, firmware and software form an "incredible" base from which to build new technologies.
Appealing to blue sky thinking problem solving engineers, Koduri explains how he and others are using Intel's enviable tech building blocks and technologies to provide unique opportunities. Looking further into the future Koduri wants the Intel discrete graphics technology that emerges to enable "photorealistic immersive worlds... lifelike personal presence communication tools... and games with virtual worlds as large as the universe".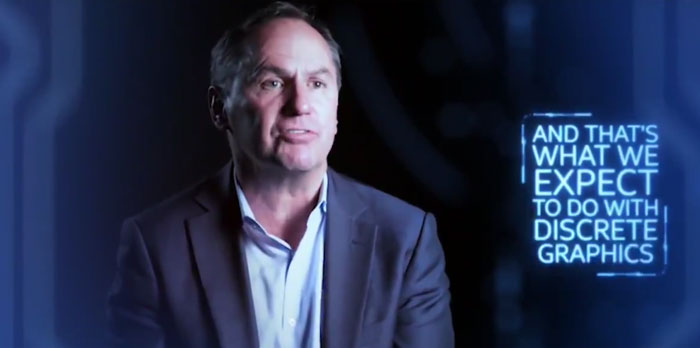 Intel's interim CEO says that graphics will play a key role in Intel architectures going forward. Swann's reckons that Intel's resources (107,000 people, cash reserves, technologies, and history) pretty much guarantees that it can be a success in becoming a leader in graphics. He wraps up by stating being a leader is "what Intel's been about, and that's what we expect to do with discrete graphics".