We already covered the news about MSI's impressive new 17-inch GS75 Stealth with RTX 20 graphics and a similarly powered, updated, GS65 laptop. Now it is time to look at some of the desktop PC components the systems, peripherals and components maker has on show at the CES 2019.
MSI's flagship GeForce 2080 Ti Lightning Z is yet to hit the market, or even be officially detailed. However, it was spotted doing some OC benchmark record attempts earlier this month, and now it has made an appearance at the MSI exhibition at CES 2019.
Loading...
Been waiting a while?
Get Flash
to see this player.
>
David Yee from MSI kindly showed us this new GeForce RTX 2080 Ti card, which will be the latest and greatest in the well regarded Lightning Z series. As you can see in our video, and the pictures below, this card is quite hefty. Yee says that it is a 3-slot solution with the supplied cooler applied, and strongly recommends the use of the support bracket you will find in the retail box. Other immediate observations from this imagery are of the triple fan config with gold accents on the front and carbon fibre backplate. It has RGB Mystic lighting too.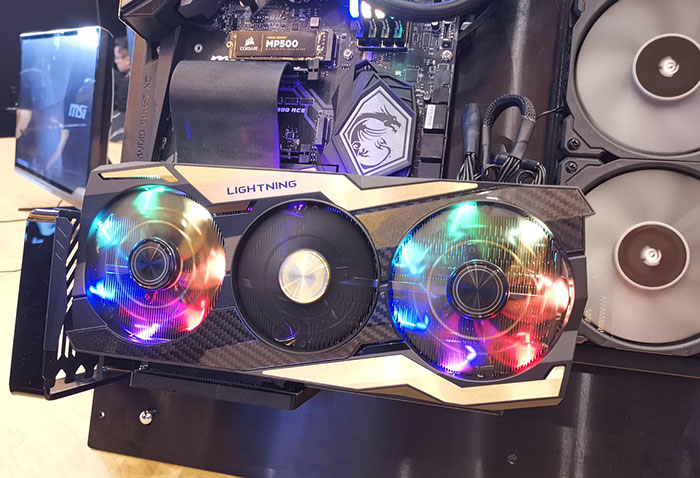 For those that keep the supplied cooler strapped on, the performance from its three-slot design encompassing triple fans, several heatpipes should be quite pleasing. This triple 8-pin connector powered card comes factory overclocked but there is an extra BIOS option for LN2 mode for flexibility. Additionally the provided cooler includes an OLED display atop, capable of showing off an animation, clock speeds, voltage, or temperatures.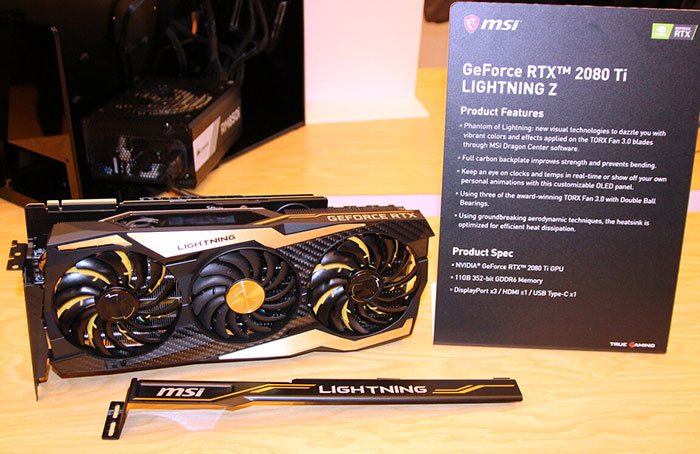 As this card is primarily aimed at overclockers, some of them 'extreme', MSI has made quite a few design concessions to tailor this product to that audience. Many such extreme OC people will be removing the cooler for LN2 shenangians and so on. The previous generation MSI Lightning Z flagship included military class components, massive metal memory and MOSFET heatsinks, and enhanced power design which this 2019 RTX 20 example is likely to match or beat.
Unfortunately, Yee didn't provide any pricing or availability details.
MSI has recently launched a plethora of custom GeForce RTX 2060 GPU series graphics cards, in line with Nvidia's unveiling of this GPU. In MSI's press release you can see and read about three such cards; the GeForce RTX 2060 Gaming Z 6G, the Ventus 6G OC, and 2060 Aero ITX 6G OC.

At the CES, we only saw the North American launch models on display (seems to be no Aero in the States). Yee admitted that there may be more MSI GeForce RTX 2060 cards coming to the US and other regions but didn't share any details at this time (MSI actually lists five models on its website if you differentiate OC and standard variants - and you can use the website's built-in compare function there too).
In brief, the MSI GeForce RTX 2060 Gaming Z 6G is the firm's top model and features the 7th gen Twin Frozr cooler with twin 9cm TORX 3.0 fans. MSI Mystic Light RGB is built into this card. Meanwhile, the Ventus 6G OC uses an unnamed thermal design which features a pair of classic TORX 2.0 fans, and direct-touch heatpipes. You can quickly spy and compare the tech specs in the table below.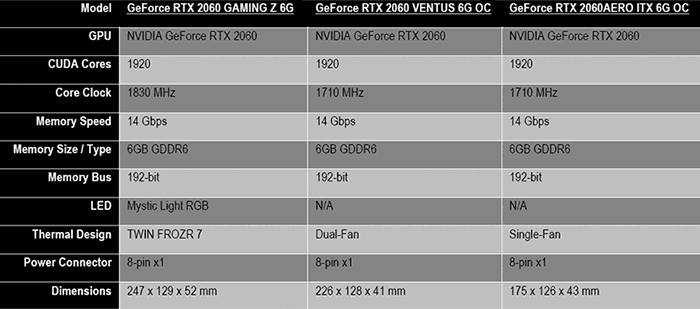 The MSI GeForce RTX 2060-based graphics cards are expected to become available starting from 15th January 2019.