Nvidia has announced that it will be supporting an expanded range of monitors that are currently available with its new 'G-Sync Compatible' certification. The big news is that these monitors are VESA DisplayPort Adaptive-Sync, or FreeSync compatible, monitors currently sold by the likes of Acer, AOC, Asus, and BenQ.
The expanding of the G-Sync ecosystem looks like just a baby-step right now but it is a very significant one. Nvidia downplays the capabilities of 'G-Sync Compatible' monitors somewhat (refer to the ticks and crosses table below), but the 'Validated Experience' on offer is the essence of the appeal of G-Sync/FreeSync VRR tech - that there will be "no flicker, blanking, artifacts," when playing fast paced games.

Keeping with its downbeat theme, probably hoping not to upset those that have invested £$£s in G-Sync monitors, Nvidia said that it examined 400 existing monitors and only 12 were up to scratch for the G-Sync Compatible logo... Of course it still recommends gamers opt for G-Sync Certified or even the new G-Sync Ultimate standard monitors.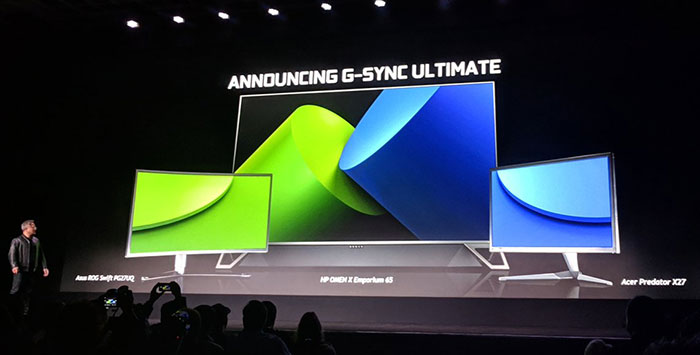 G-Sync Ultimate monitors need to pass 300 image quality tests, says Nvidia. With such a display you will benefit from "a full refresh rate range from 1Hz to the display panel's maximum rate, plus other advantages like variable overdrive, refresh rate overclocking, ultra-low motion blur display modes and industry-leading HDR with 1,000nits, full matrix backlight and DCI-P3 colour". That sounds impressive and so will be the price, one expects.
Back to the G-Sync Compatible news, and support for this crossover into FreeSync territory will begin with a new GeForce Game-Ready driver that arrives on 15th January.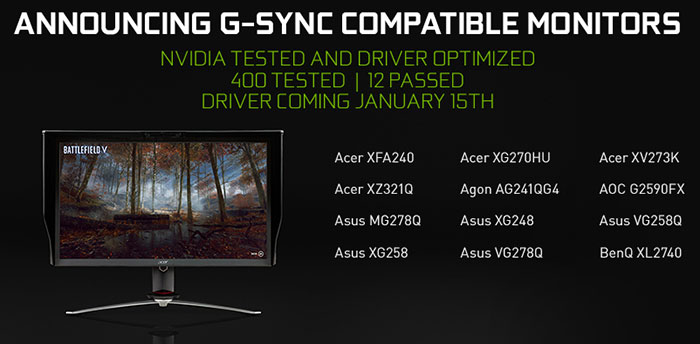 For those of you who own an Nvidia GPU and a FreeSync compatible monitor and are perhaps disappointed that your display isn't on the list, it might still perform well enough to make you happy. Nvidia blogs that "for gamers who have monitors that we have not yet tested, or that have failed validation, we'll give you an option to manually enable VRR, too." My desktop PC at home fits into this category so it will be interesting to test out VRR on my 32-incher for the first time.
Introducing G-SYNC Compatible Monitors. #CES2019

We're testing all monitors to increase the number of gamers who have access to a GeForce-compatible Variable Refresh Rate (VRR) experience.

Learn more: https://t.co/4xrSTcOxAI pic.twitter.com/GerpkVUQHx

— NVIDIA GeForce (@NVIDIAGeForce) January 7, 2019