Hong Kong based Inno3d has launched a new cooling solution which we initially be featured on its Nvidia GeForce RTX 20 series graphics cards. The first two cards that will get the Jekyll treatment are going to be based upon the RTX 2070 and 2080 GPUs. You might be wondering what about this cooling solution lends itself to the literary reference to the Strange Case of Dr Jekyll and Mr Hyde? The simple answer is that if you buy a Jekyll edition graphics card you will get a choice of two cooling facias in the box; one twin fan unit, and another with a trio of fans.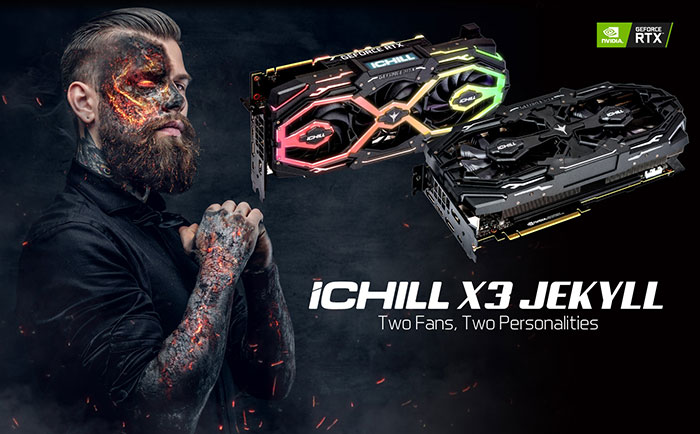 Direct links to the respective product pages are provided below:
Inno3d expects purchasers of the Jekyll range to appreciate the cooling system flexibility on offer. It suggests that those interested in the absolute best performance will fit the facia that features three 9cm Sythe blade fans, those who treasure peace and quiet might opt for the two 10cm 15 blade Turbine blade fan cooler. Those are the two 'personas' it explains.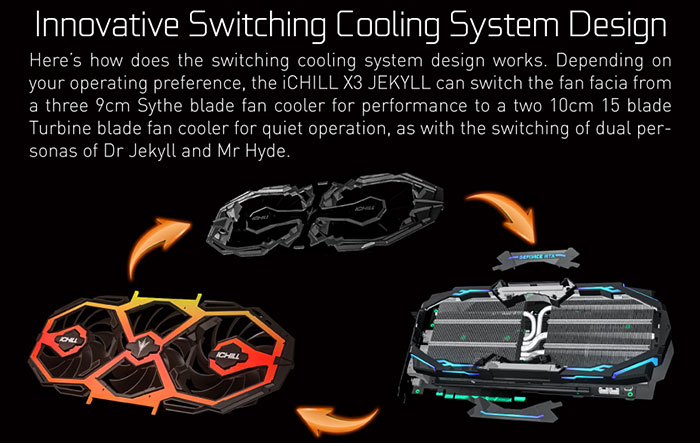 "We believe the switching cooling system design is the one of the most crazy and innovative designs in gaming graphics card history," enthused Ken Wong, Sr. Product Manager at Inno3d. He added that "The gamer doesn't need to select a 2 fan or 3 fan graphic card because they can have both with one purchase and change the cooling solution based on their needs."

As well as switching cooling fan configurations the iChill X3 Jekyll cards feature 'fast and furious' RGB LED lighting, a backplate with lighting cutouts, AI temperature control, six heatpipes, 140 aluminium fins, custom fan designs, and Japanese made ball bearings. Furthermore the OLED display atop of the card can provide data on the GPU, memory, power, fan speed, and/or a logo. Both cards boast core boost clocks a smidgeon faster than the Nvidia FE designs (Nvidia's RTX 2070 FE boosts to 1710MHz, and the RTX 2080 FE to 1800MHz).

We don't have pricing and availability details for the new iChill X3 Jekyll range but Inno3d says it is working hard to make them available via its premium resellers.