Nvidia has taken the wraps off the Quadro RTX 4000 professional graphics card. It is the most affordable Turing GPU-based accelerator so far, coming in at US$900, and described as the first such midrange professional GPU. As with the Quadro RTX 8000, RTX 6000, and RTX 5000, it packs in not just CUDA cores but RT cores, and tensor cores alongside a chunk of GDDR6 RAM.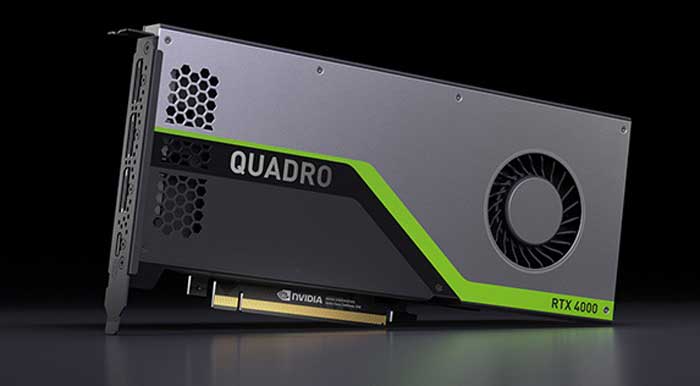 The new Nvidia Quadro RTX 4000 puts the power of real time raytracing in the reach of a wider range of developers, designers and artists – it's just slower, that's all. Compare it and its key features in the bullet point list below.
Nvidia Quadro RTX 4000: 2,304 CUDA Cores, 36 RT Cores, 288 Tensor Cores, 8GB GDDR6 Memory, priced at $900
Nvidia Quadro RTX 5000: 3,072 CUDA Cores, 48 RT Cores, 384 Tensor Cores, 16GB GDDR6 Memory, priced at $2,300
Nvidia Quadro RTX 6000: 4,608 CUDA Cores, 72 RT Cores, 576 Tensor Cores, 24GB GDDR6 Memory, priced at $6,300
Nvidia Quadro RTX 8000: 4,608 CUDA Cores, 72 RT Cores, 576 Tensor Cores, 48GB GDDR6 Memory, priced at $10,000
Above you can see a wide range of processing power, and built-in memory, and an even wider range in pricing. With the RTX 4000 the tech specs of its fully enabled TU106 GPU translate to 7.1TFLOPS of FP32 performance, 6 Giga Rays/Sec, and 43T RTX-OPS. Nvidia hasn't shared the core and memory clock speeds for this card but it seems to run a bit slower than the GeForce RTX 2070 FE which has greater default power consumption and RTX-OPS figure (45T)
The new Quadro RTX 4000 connects to a PCI Express 3.0 x 16 slot on your motherboard and it is a single-slot design (4.4-inch high, 9.5-inch long) with a max power consumption of 160W. Outputs provided are; DP 1.4 (3), USB Type-C VirtualLink (1).
Dell HP, and Lenovo have all committed to equipping various servers and workstations with Nvidia Quadro RTX 4000 cards. The accelerators will become available in December via systems makers, Nvidia.com, and worldwide distribution partners.