Nvidia has announced an update to the GeForce Experience utility for owners of its graphics cards. This update focuses upon the screenshot composing utility known as Ansel, named after the famous photographer and environmentalist, Ansel Adams. Nvidia's new Ansel RTX will leverage the ray tracing and deep learning capabilities the new GeForce RTX GPUs to create ultra-quality in-game photos. While the extended Ansel RTX feature set is only available to owners of the upcoming new generation RTX 20 Series graphics cards, Nvidia says that it will be able to offer improved in-game photos "in almost any game".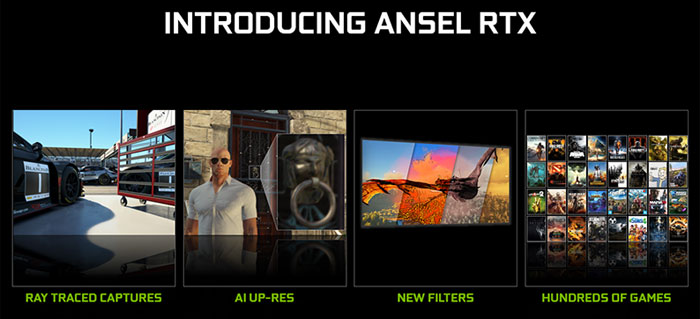 In a short explainer, Nvidia reminds us that the new Turing GPUs feature dedicated ray-tracing processors called RT Cores, which accelerate and deliver real-time ray tracing for games. Inside any supported ray-traced game you will be able to pause and "crank up the level of ray-tracing to beyond real-time levels for the best possible in-game photo," boasts Nvidia.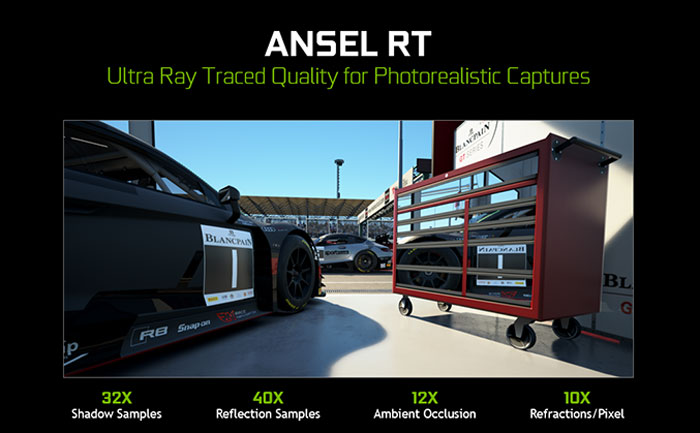 Giving an example game, Assetto Corsa Competizione, Nvidia says that Ansel RTX will:
Increase refractions per pixel by 10X,
Boost ambient occlusion samples by 12X,
Raise shadow samples by 32X,
and hike reflection samples by 40X.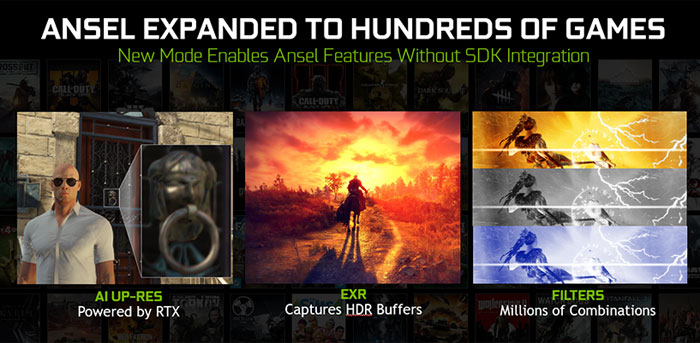 In addition to the raytracing quality boost, further image quality uplifts will be delivered by features such as AI Up-Res (utilising the Turing GPU Tensor cores), the EXR function which captures HDR image buffers, and Filters such as Green Screen, Sticker and Letterbox.
As mentioned in the intro, you will need an Nvidia GeForce RTX 20 series GPU to make use of Ansel RTX but games don't have to have been written with the Ansel SDK for you to make use of a subset of the new features. Check the table below to see what you can and cannot do with Ansel RTX and certain games.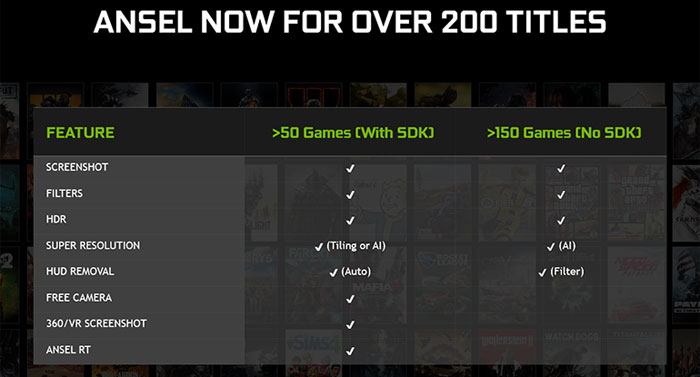 To make use of Ansel RTX you will have to update the GeForce Experience accessory software after you buy your new GeForce RTX 20 Series graphics card. Nvidia says the new Ansel filters will be updated right after Gamescom in an upcoming Game Ready Driver. You can read more about new games with Ansel support and see a multitude of image examples on the Nvidia blog.