Most PC enthusiasts, PC gamers, and HEXUS regulars will be well aware that Nvidia is preparing a very special announcement ahead of GamesCom 2018 this evening. Nvidia CEO Jensen Huang will be taking the stage at the GeForce Gaming Celebration to launch some new generation graphics cards and show off their capabilities. All the information we have, and the latest leaks and spills, point to an Nvidia GeForce RTX 2080 and RTX 2080 Ti being launched tonight. The HEXUS editor is there on the scene for a firsthand experience of what is revealed by Nvidia, followed some behind-the-scenes chat. If you can't make it over to Cologne, Nvidia will be livestreaming the event on Twitch and "the fun starts at 6pm (CET)".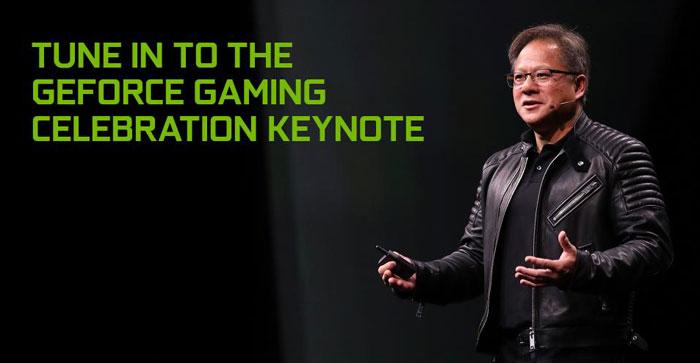 As we wait impatiently for the deluge of official news, photos and videos that will rush forth this evening, it is an interesting diversion to look through all the leaks and spills of the weekend (and this morning). Graphics leaking specialist website VideoCardz has lived up to its reputation by showing off Nvidia GeForce RTX 2080 and RTX 2080 Ti graphics cards from all the major vendors in recent news posts. If you head on over to the site you can take a look over purported designs from MSI, Palit, PNY, EVGA, Asus and Gigabyte. This morning's scoop is a photo/render of the Nvidia GeForce RTX 2080 Ti Dual-Fan reference design - AKA the Founders Edition (see directly below).

As most of you reckon that EVGA is the best Nvidia AIB partner, let us have a quick look over that leaked design, as an example of what to expect with these third party designs. VideoCardz only had the regular EVGA XC Ultra RTX 2080 box art and graphics cards shots to share. This card is based upon the TU104 Turing GPU with 2944 CUDA cores plus with 8GB GDDR6 memory and a 256-bit bus it says. If you've been looking over the flood of leaks and photos this weekend you will think that this isn't a typical design as it only has two fans. However, VideoCardz reckons the RTX 2080 Ti model will be a triple fan model. To refresh you, for comparison sake, the GeForce RTX 2080 Ti is said to employ a Turing GPU with 4352 CUDA cores plus 11GB GDDR6 memory on a 352-bit bus.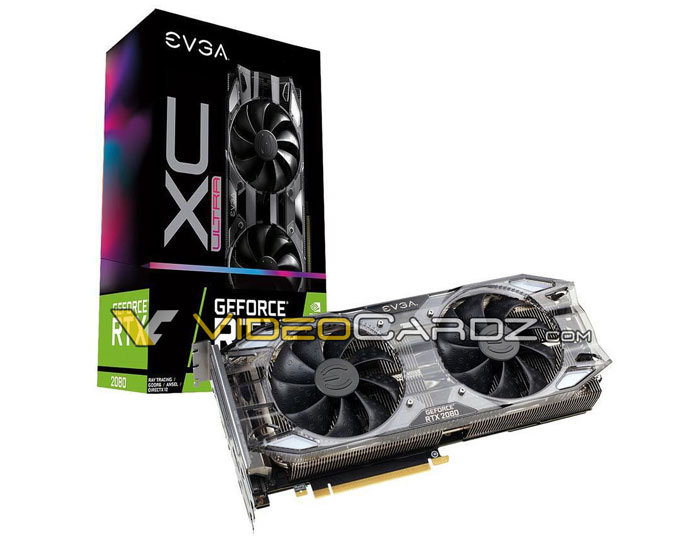 Pricing
One of the fuller leaks this weekend was scored via some PNY data sheets. The comprehensive data shared in these product documents provides an overview of the new technologies, full specification lists, and more. Some pricing was included in the PNY data sheets, which suggested the new PNY GeForce RTX 2080 XLR8 would be $800, and the PNY GeForce RTX 2080 Ti XLR8 would be $1000. However, these are reckoned only to be placeholder amounts put in by the PDF document designer. Lastly if you check the specs you can see AIB tweaked clocks making a difference to the TDPs.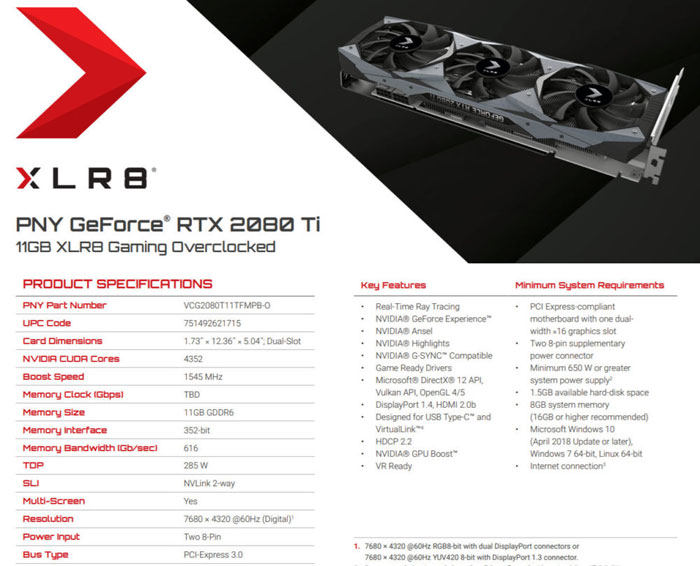 More Real-Time Ray Tracing demos
While you wait for the GeForce Gaming Celebration, Nvidia has shared some more Real-Time Ray Tracing demos to whet your appetite. The latest release is a video of Epic Games founder and CEO Tim Sweeney showing off a Porsche 911 real-time animation render and real-time maniputation in Unreal Engine.