There are a lot of PC gamers and enthusiasts who are rather impatiently waiting for the next generation of graphics cards from the green team. Thus featherweight news snippets like Nvidia saying happy birthday to Alan Turing a couple of days ago, was seen as "GTX 1180 confirmed," by several news outlets. But Nvidia has a problem with current gen GPU stockpile returns, according to industry sources, and seems reluctant to launch next gen products in the current market - so 'Turing' remains on the far horizon with every new related news morsel we see.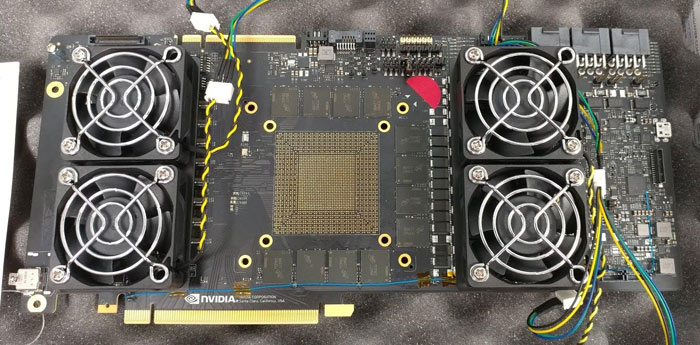 A few hours ago a photo of an Nvidia branded engineering sample graphics card was shared on Reddit, via VideoCardz. The nicely clear and detailed photo shows a card that is certainly in the early stages of its development and sans-GPU (a big GPU at that). However, there are a number of interesting pointers that this is indeed a recently put together next gen Nvidia card.
The most striking evidence of things to come is the visibility of Micron GDDR6 memory chips. Mass production of these memory components was only announced yesterday. We know of no existing GPU that works with GDDR6. Nvidia could be working on a Pascal card with GDDR6 but that doesn't seem likely. We can see 12 of Micron's GDDR6 memory modules installed on this prototype card.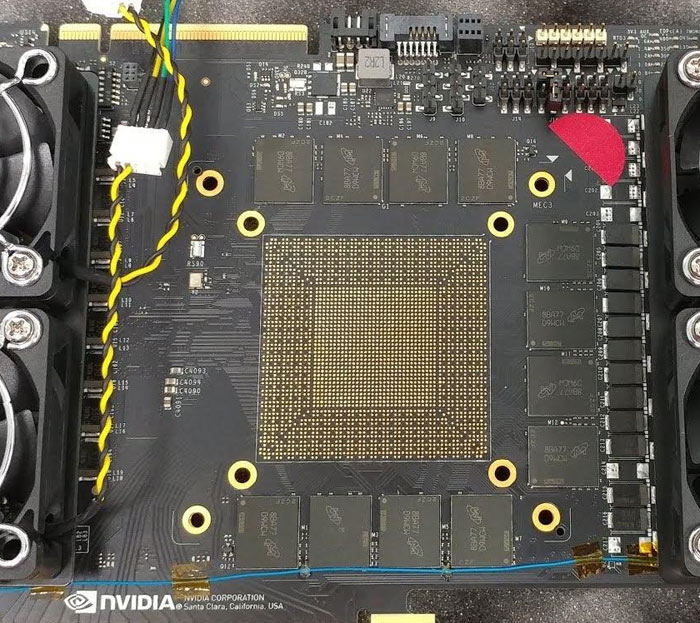 As is often seen in engineering samples, the card is maxed out. It has both an over abundance of things such as power connectors (x3) and an interface that looks like NVLink along the top. Embryonic graphics cards commonly boast these things so they can be tested at their limits and be monitored more closely than finished shipping examples.
As VideoCardz concludes, this may or may not be the first photo of a 'Turing' graphics card. It could equally be a Quadro or a general test design.