NVIDIA makes bold claims as it brings HD gaming to the masses
Today's launch of NVIDIA's mid-range 9600 GT GPU, which the company claims can deliver up to 116 per cent more performance than its predecessor, ushers in the introduction of the maker's next-generation GeForce 9 series.
Ujesh Desai, general manager of GeForce desktop GPUs at NVIDIA said:
"After going to all the GeForce LANs and seeing the rigs that gamers play on, we wanted to kick off the GeForce 9 with the perfect GPU for gamers. The first product to be introduced in the GeForce 9 family gives gamers the horsepower to play cutting-edge DirectX 10 games at a price they will love and can afford."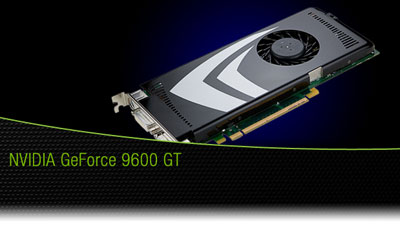 Taking the fight to ATI's Radeon HD 3850 and 3870, NVIDIA's new mid-range solution features 64 stream processors - each individually clocked at 1625 MHz - and a 256-bit memory interface running at 900MHz. That's just the default specification of course, expect NVIDIA's partners to bump those figures up a notch or two.
Here at HEXUS, we've already taken a Zotac GeForce 9600 GT through its paces and you can read all about our findings on this new mid-range contender by clicking here.
NVIDIA's 9600 GT is going to make a lot of us happy. No, not because it sets the world alight - it actually doesn't - but more because it puts NVIDIA and ATi head-to-head once again. And that is a good thing for us all.
Key features (according to NVIDIA):
NVIDIA PureVideo HD Technology
The combination of high-definition video decode acceleration and post-processing delivers "unprecedented picture clarity, smooth video, accurate colour, and precise image scaling for movies and video".
Dynamic Contrast Enhancement
Provides "spectacular picture clarity with frame-by-frame optimisation".
NVIDIA SLI Technology
"Delivers up to 2x the performance of a single GPU configuration for unequalled gaming experiences by allowing two graphics cards to run in parallel. The must-have feature for performance PCI Express graphics, SLI dramatically scales performance on today's hottest games."
PCI Express 2.0 Support
"Designed to run perfectly with the new PCI Express 2.0 bus architecture, offering a future-proofing bridge to tomorrow's most bandwidth-hungry games and 3D applications by maximising the 5 GT/s PCI Express 2.0 bandwidth (twice that of first-generation PCI Express). PCI Express 2.0 products are fully backwards-compatible with existing PCI Express motherboards for the broadest support."
Specification:
| | |
| --- | --- |
| Stream Processors | 64 |
| Core Clock (MHz) | 650 MHz |
| Shader Clock (MHz) | 1625 MHz |
| Memory Clock (MHz) | 900 MHz |
| Memory Amount | 512MB |
| Memory Interface | 256-bit |
| Memory Bandwidth (GB/sec) | 57.6 |
| Texture Fill Rate (billion/sec) | 20.8 |
Official press release: NVIDIA Reveals One Of The Largest Generational Performance Leaps In Company History
Related reading: ZOTAC (NVIDIA) GeForce 9600 GT AMP! Edition: the new mid-range contender