While Nvidia continues to proliferate GTX10 designs, enthusiasts are holding their cash and their interest for something really new, the upcoming GTX11 series of consumer graphics cards. The last we heard of this elusive next generation was back in March, when it was bad news - the launch of these parts would have to wait as Nvidia decelerated developments to prolong existing product lifecycles. Apparently, mass production of the GTX11 GPUs will not commence until we are into Q3 this year.
Today a sign that Nvidia was getting ready to reveal its GTX11 designs, and provide various levels of information at key tech events worldwide, was seen. It isn't a Computex event unfortunately (that's very soon - next week), but a senior GPU Engineer from Nvidia is presenting at the Hot Chips Symposium in August.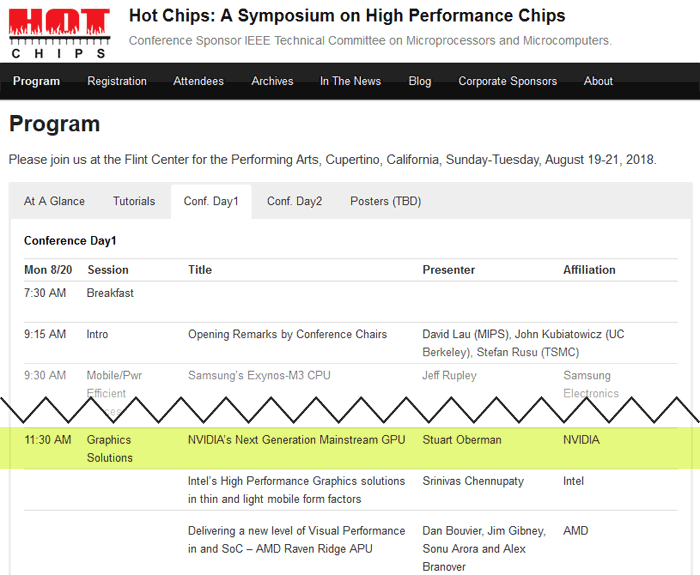 If you head on over to the Hot Chips Symposium program page, then select the 'Conference Day One' tab, and scroll down to 11.30am you will see as in my screenshot above. As you can see, Nvidia VP of GPU ASIC Engineering, Stuart Oberman, will be addressing the Hot Chips Symposium at that time on 20th August. The topic is "Nvidia's Next Generation Mainstream GPU".
That is nice and clear, the GTX11 series will be unveiled at last - perhaps a little before this tech deep-dive talk. However, we still don't know for sure what Nvidia has up its sleeves for consumers. Will we get a Pascal refresh, a mainstream version of the Volta GPU, something based upon the rumoured 'Turing' architecture, a mix of the previous propositions or something else? Dovetailing with the August launch we expect GDDR6 to be in volume production and readily available from the likes of Samsung, Micron, and SK hynix.