Nvidia released its latest GeForce Game Ready Driver to the public just a few hours ago, it is version 397.31 WHQL. The driver release came along with the usual release notes, blog post, and encouragement to download and be 'game ready' for a couple of new PC titles. In this case it was BattleTech, and Frostpunk. However, since release there has been a steady stream of problems reported on the official Nvidia GeForce support forum. These are quite serious problems, so you might want to pause any GeForce software update plans for now…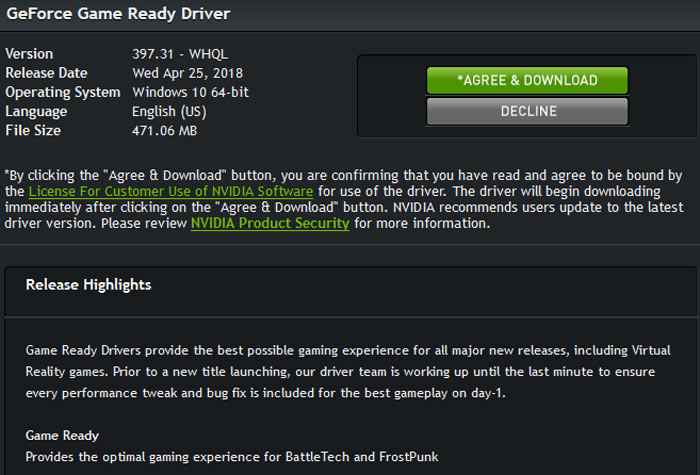 Checking through the forum, it seems to be that users packing an Nvidia GeForce GTX 1060 are affected by the issues. The issue looks pretty serious and bothersome, as affected users will be faced with a restart to reinstall driver screen, and when the reinstall completes they will meet up with this same screen again, and again. Consider that the GTX 1060 is Nvidia's most popular graphics card, according to the current Steam Hardware Survey data, and these issues could cause a lot of frustration.

The situation is ongoing with Nvidia support on the forums asking users for more specifics about their complaints, especially with regard to graphics card model IDs.
Meanwhile there appears to be a simple working method to roll back to v391.35. Affected users need to download this older driver and the Display Driver Uninstaller software. The next step is to reboot in safe mode and uninstall the new driver that is causing the problems using DDU, and after a reboot you then install v391.35.
Hopefully Nvidia will sort out this issue shortly, pause auto-downloading and updating via the GeForce Experience, and release a new Game Ready driver for those wishing to get the best performance in BattleTech and Frostpunk on their GeForce powered PCs.
UPDATE, Saturday morning:
Nvidia customer care responded to a Palit GTX 1060 user in the official GeForce forums a few hours ago:

"We are aware of the issue preventing the driver from installing on a very small subset of GeForce GTX 1060 cards. For now continue using the previous driver with your Palit GeForce GTX 1060 card until we provide a solution."