During his GTC 2018 keynote yesterday evening, Nvidia CEO Jensen Huang unveiled the company's latest and greatest professional graphics card. The Volta GPU based Quadro GV100 was built to satisfy the demands imposed by the recently announced real-time ray-tracing technology, in a workstation. In a nutshell this add in card is equipped with; 5120 CUDA cores, 640 Tensor cores, 32GB of HBM2, and 4x DP 1.4.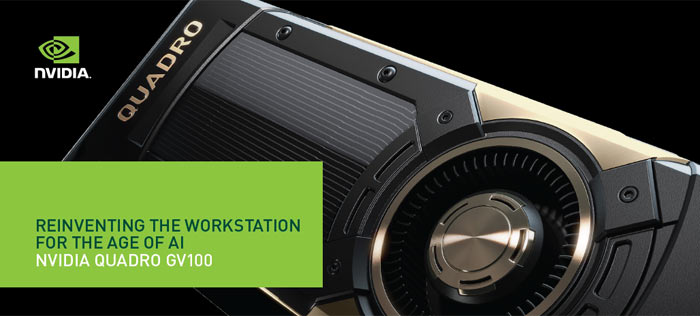 The graphics computing power outlined above can deliver 14.8 TFLOPS of single-precision compute, 7.4 TFLOPS of double-precision compute power, and 118.5 TFLOPS of deep learning performance. This 4.4-inch (11.2cm) tall and 10.5-inch (26.7cm) long workstation PCI Express 3.0 x 16 graphics card boasts a max power consumption of 250W.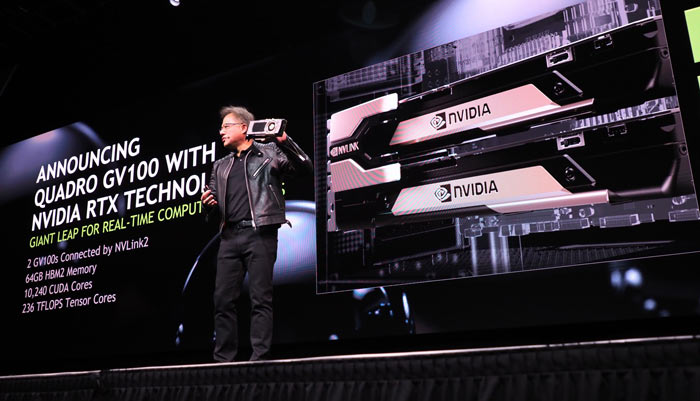 Nvidia's Quadro GV100 also uses a new interconnect technology called NVLink 2 which "extends the programming and memory model out of our GPU to a second one". In practical terms that means you can connect two Quadro GV100 cards and they will act as one GPU. The linked entity provides 10,240 CUDA cores, 64GB of HBM2 memory, and 236 TFLOPS of tensor-core power.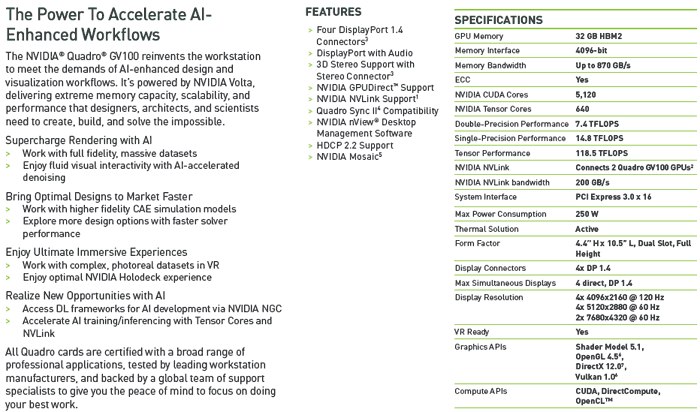 In his keynote speech Nvidia CEO Jensen Huang claims that virtually everyone is adopting RTX technology. Referring to RTX as "the single most important advance in computer graphics in 15 years," Huang shares a slide listing three dozen partners in industries spanning gaming, design, film, architecture - all of whom are onboard with RTX. Quadro GV100 will be able to leverage Nvidia's RTX technology via Microsoft's DirectX Raytracing (DXR) API, the Nvidia Optix API, or an upcoming version of the Vulkan API.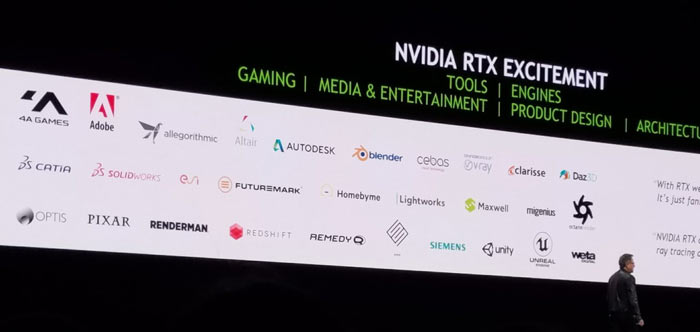 The Nvidia Quadro GV100 is up for sale now, directly from Nvidia for $8,999 a piece with free shipping. There's a buy limit of five pieces per customer.