On Thursday evening at NIPS (the Conference and Workshop on Neural Information Processing Systems) Nvidia launched the Titan V. It refers to this new product as "the most powerful graphics card ever created for the PC" and it features Nvidia's latest and greatest 'Volta' graphics architecture.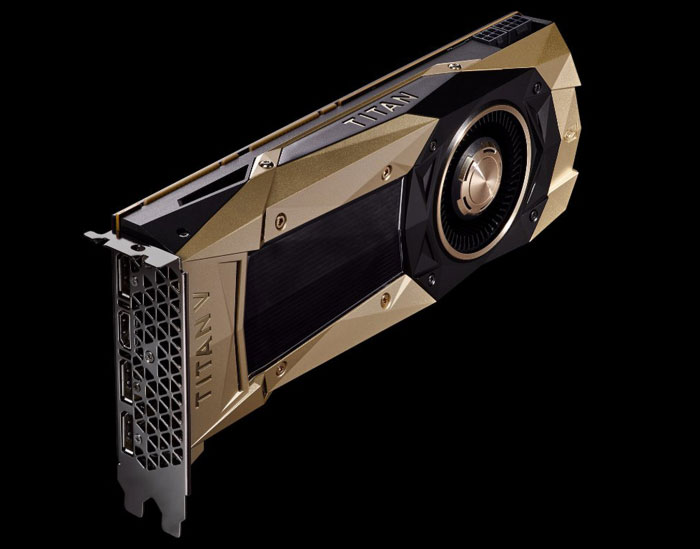 The brand new Nvidia Titan V is based upon the same GPU we saw employed in the Tesla V100 HPC accelerator launched back in May. Later that month we noticed an Nvidia intern 'leak' a Titan Volta card but for some reason or other it has taken Nvidia six or seven more months to launch such a product.
As an aperitif to the full specs, let's consider some of the standout figures, as highlighted by Nvidia CEO Jensen Huang at NIPS yesterday. Titan V's 21.1 billion transistors deliver 110 (deep learning) teraFLOPS of horsepower, 9x that of its predecessor, and extreme energy efficiency, Huang told the crowd at NIPS. The Volta V100 GPU packs 5129 CUDA cores, 640 Tensor cores, has a boost clock of 1455MHz, and features 12GB of HBM2 memory on a 3072-bit wide memory interface.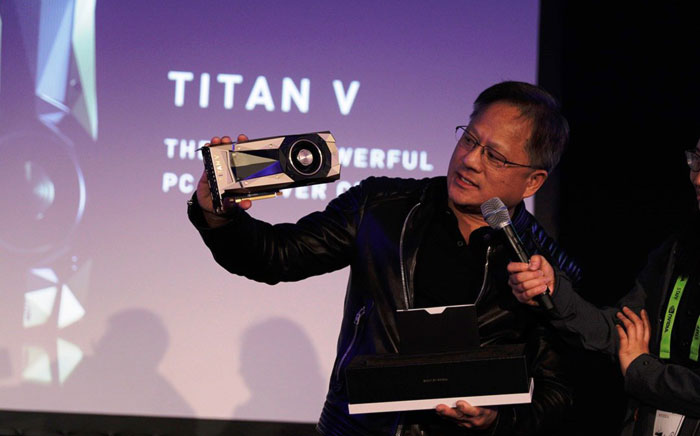 Nvidia Titan V specs
6 Graphics Processing Clusters
80 Streaming Multiprocessors
5120 CUDA Cores (single precision)
320 Texture Units
1200MHz Base Clock (MHz)
1455MHz Boost Clock (MHz)
850MHz Memory Clock
1.7Gbps Memory Data Rate
4608K L2 Cache Size
12288 MB HBM2 Total Video Memory
3072-bit Memory Interface
652.8GB/s Total Memory Bandwidth
384 GigaTexels/sec Texture Rate (Bilinear)
12nm Fabrication Process
21.1 Billion Transistor Count
3 x DisplayPort, 1 x HDMI Connectors
Dual Slot Form Factor
One 6-pin, One 8-pin Power Connectors
600 Watts Recommended Power Supply
250 Watts Thermal Design Power (TDP)
91° C Thermal Threshold
Further interesting aspects of this card are that it features a 6- and an 8-pin power connector, it has 16 power phases, and its 250W TDP is attractive considering the performance on offer. As per the leak in May, this card doesn't work in SLI, instead NVLink will be used for multi-GPU configurations.
Nvidia is targeting researchers and scientists with this latest Titan release, as you might have guessed from the launch venue and presentation. There is free AI software available from Nvidia to use with this card (including the Nvidia TensorRT inferencing optimiser) and help for developers working in deep learning and HPC.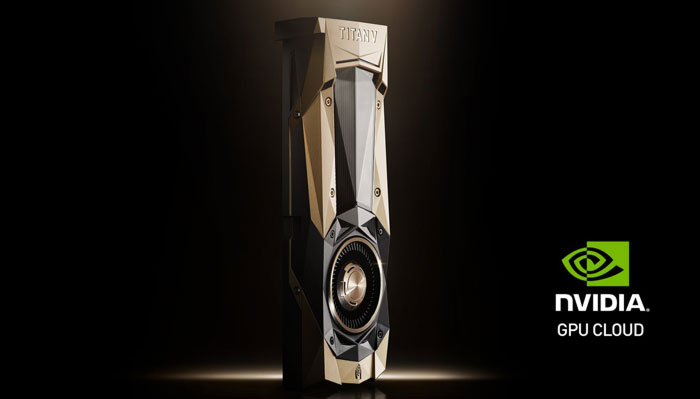 If you are interested in the new Nvidia Titan V, it will be released on 30th Dec (approx) and will cost £2700/$2999 with a limit of two per customer. You can pre-order right now.