Nvidia has announced that it is adding the GeForce GTX 1070 Ti to its GTX 10 roster of gaming GPUs. Ahead of this news there was quite a substantial build-up of leaks and rumours so it is good to see it go official. However, even though it has been launched today, with pre-orders opening up immediately, end users won't get their mitts on these graphics cards until 2nd November and onwards.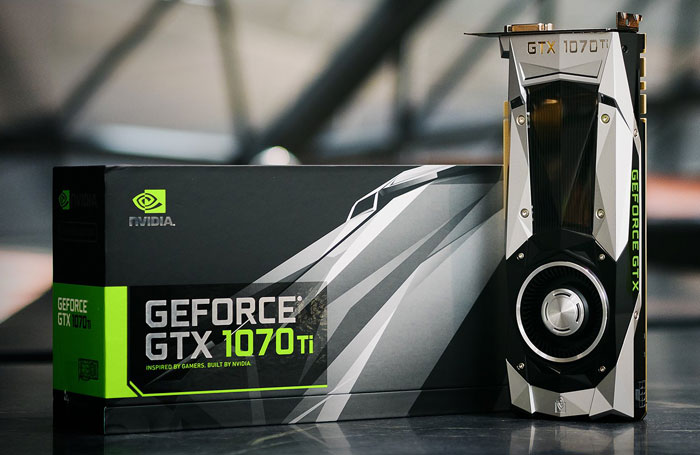 Of course the GeForce GTX 1070 Ti is based upon Nvidia's Pascal architecture and snuggles in specs, performance and pricing between the currently available GTX 1070 and 1080 designs. Ahead of the official confirmation of the GTX 1070 Ti it was widely believed that it was designed to go head-to-head with AMD's Radeon Vega 56 graphics cards. That theory still seems reasonable.
At the heart of the GTX 1070 Ti is a GPU with 2432 CUDA cores and a base/.boost clock speed of 1607 / 1683MHz. This is accompanied by 8GB of GDDR5 memory running at 8Gbps on a 256-bit bus, providing 256GB/s of bandwidth. The reference card (or Founders Edition) is a 2-slot design and 10.5-inches long. In operation it has a max GPU temp of 94C and pulls a maximum of 180W via a single 8-pin connector. It is SLI capable.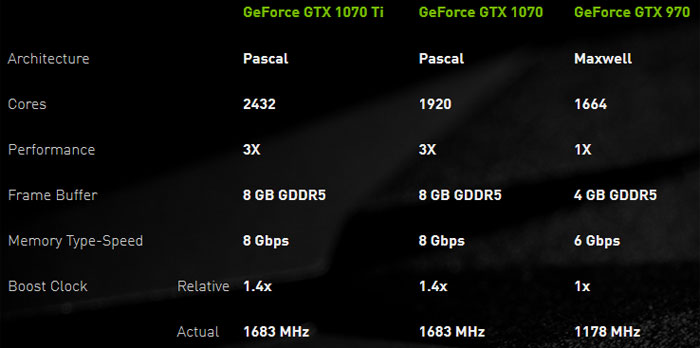 Interestingly some rumours ahead of the official news suggested the GTX 1070 Ti would be locked – not overclockable. That sounded a bit silly and indeed, in its email to HEXUS, Nvidia describes the GTX 1070 Ti as "an overclocking monster with plenty of headroom for gamers to crank up the clock speeds". Furthermore, Nvidia says its partners have gone even further, pushing past stock specs out of the box with their custom cards.
As it is ahead of NDA and Nvidia's blog doesn't publish any overclocking info we don't have anything like that to share with you. Most well-seasoned PC enthusiasts can already have a good guess about the performance and overclockability of the GTX 1070 Ti as it sits between existing similar designs and the number of CUDA cores and reference clocks are now known.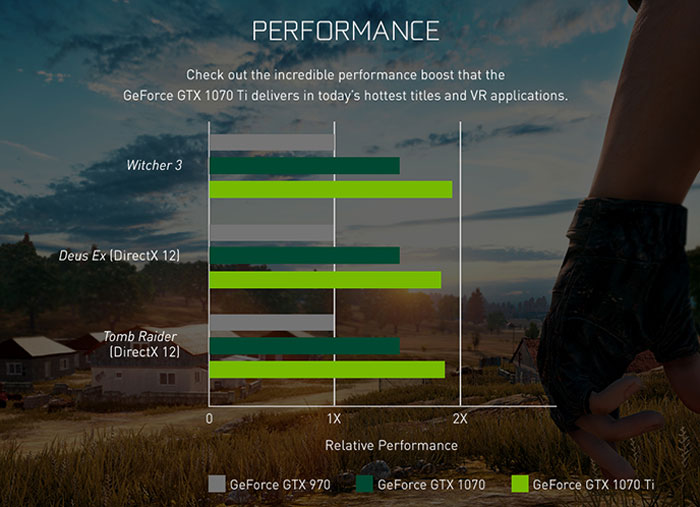 In its own brief marketing friendly comparisons Nvidia doesn't compare the new card against the GTX 1080 or AMD Radeon Vega 56 but against the GTX 970 and GTX 1070. The chart, above, is still worth a glance though. In a more lyrical description of the new card's performance Nvidia wrote that it "screams through Destiny 2, Shadows of War, Star Wars Battlefront II and PUBG".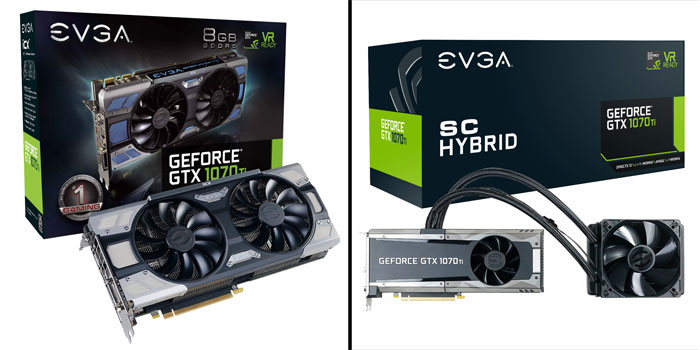 Pre-orders of the Nvidia GeForce GTX 1070 Ti Founders Edition start today with an RRP of $449/ £419 / €469 (UK and Euro price includes tax). Already HEXUS has started to receive emails from Nvidia partners detailing their custom design GTX 1070 Ti cards. We've heard from EVGA (see pics directly above), Asus, Zotac, and Inno3D so far. Expect announcements to follow shortly from the likes of Gigabyte, MSI and Palit. Watch the HEXUS press release section for copies of these new releases later today.