KFA2 seems to jumped the gun by publishing a GTX 1070 Ti product page in full. Whatever the reason for this week-early slip-up we can now see a custom designed GTX 1070 Ti in the public domain; including product shots from various angles, and a detailed specifications list.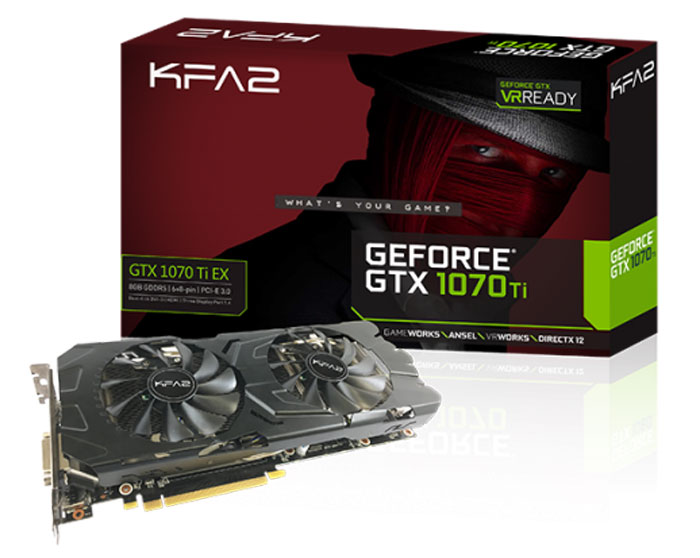 A little over a week ago HEXUS noted that basically all you would want to know about the Nvidia GeForce GTX 1070 Ti had been leaked. Our news article, penned at that time, shared the tech specs, pricing, launch and availability in quite some detail.
KFA2's GTX 1070 Ti product page, still live at the time of writing describes the KFA2 GeForce GTX 1070 Ti EX. In the official product summary KFA2 enthuses that the new card "offers a new groundbreaking design for the gaming elite and blazing fast clock speeds right out of the box". There are plenty of pro images, which are downloadable in bulk (zip), and a fully populated specs tab which includes important info about the brand new member of the GTX 10 family.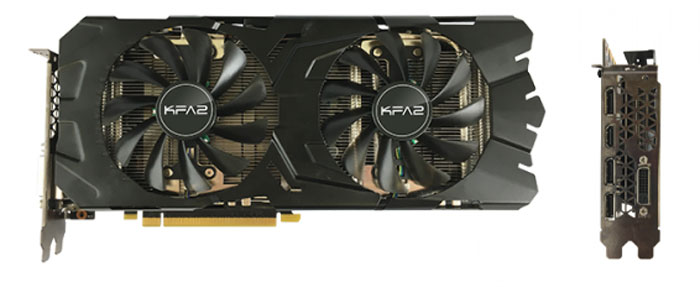 Key specifications shared are: the GPU Base Clock is 1607 MHz, and Boost Clock is 1683 MHz, there is 8GB of 256-bit GDDR5 running at 8Gbps providing 256GB/s of bandwidth. The card supports up to quad displays via DVI-D, HDMI, and 3x DP 1.4. A 500W PSU is recommended and 1x6pin and 1x8pin power connectors are provided.
Benchmarks
So, how does it perform you might ask. We don't have definitive trusted or firsthand figures for now but VideoCardz has recently shared a set of 3DMark results which mix in a pair of GTX 1070 Ti samples with other contemporary GPUs.

As you can see from the above synthetic benchmarks, the GTX 1070 Ti appears to address the AMD Radeon RX Vega 56 directly, as was postulated previously. From previous leaked info, enthusiasts will only have to wait another week for full extensive reviews of the GTX 1070 Ti with launch drivers.