EVGA has written to HEXUS to tell us about its new standalone VRM board. The new EVGA Epower V is a standalone 12+2 VRM board designed to provide additional power to target devices such as graphics cards or motherboards. With an EVGA Epower V in your PC system you will benefit from two fully-independent voltage outputs with EVBot MKII facilitating on-the-fly voltage control. It's an accessory targeting those aiming to squeeze the very peak of performance from their PCs.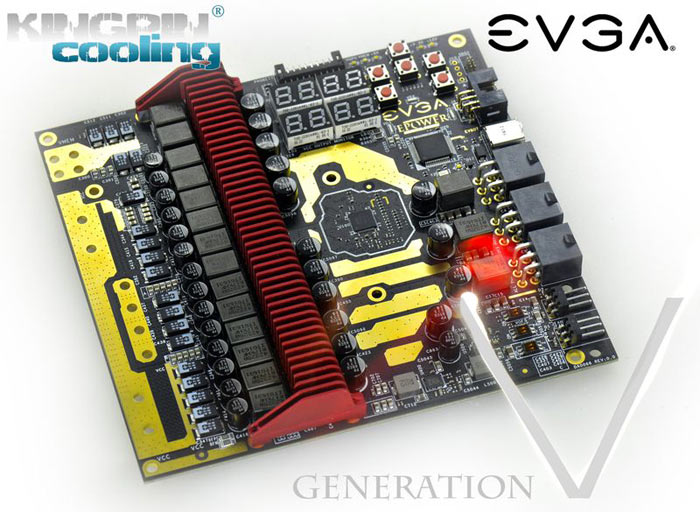 You will connect the Epower V via 3x 6-pin PCI-E power connectors. This input is fed through a 12+2 phase design "to provide substantially more VCORE and VMEM to your graphics card, allowing it to break through any limits holding it back," explains EVGA's email.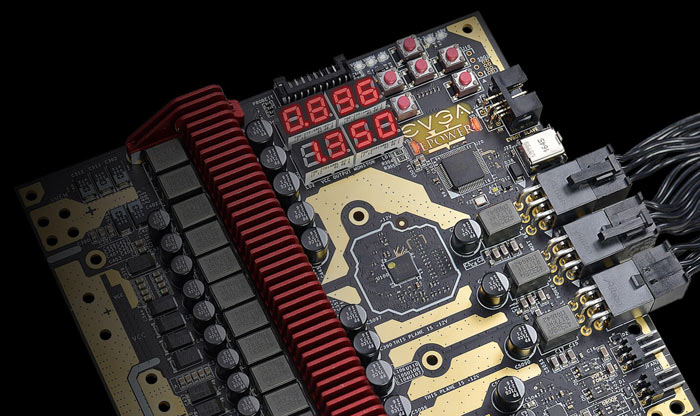 Usefully, the Epower V has its own onboard VCORE and VMEM LED Display. You can quickly and easily check this LED display which adjusts in real-time. EVGA has integrated its EVBOT MKII buttons to conveniently adjust your voltages on the fly, or upgrade your firmware and connect your EVBot to control the graphics card remotely. For greater flexibility you can connect to the board via the board's USB 3.1 Type-C port software control (also used for firmware updates).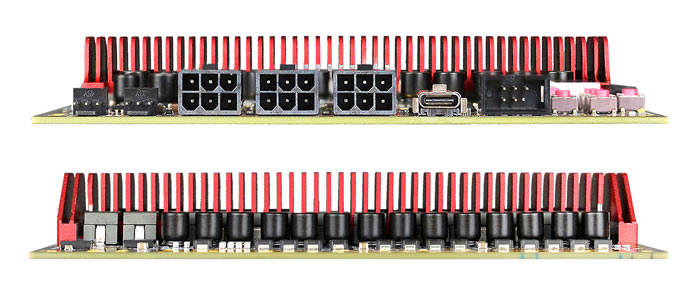 Other key features of the EVGA Epower V include the following:
VMEM - Voltage adjustment range 600mV to 2300mV. Rated capacity is 80A. Maximum peak capacity - 90A at 1.9V output voltage.
VCORE - Voltage adjustment range is 600mV to 2000mV. Rated capacity is 600A. Maximum peak capacity - 620A at 1.85V output voltage.
Infineon IR latest generation digital PWM
Droop, Force, and Offset Voltage Switches - To further customize your EPOWER V, use the available DIP switches to use remote sense to control for VDROOP, Force your overclock voltages, and/or Offset your voltages for the ultimate in stability choices.
ProbeIT - ProbeIT connectors are among the easiest ways to hook up a device to a multimeter to painlessly read voltages on-demand to give you the most accurate readings whenever you need them.
Fan Headers - The EPOWER V board brings the voltage, and gives you easy access to fan connectors so you can also keep it cool. Use one or two 12v fans to keep your system rock solid during even your longest benching sessions.
1 Year, DOA Warranty (no exceptions)
Using this board for overclocking your GPU, for example, isn't a trivial process. EVGA partner KingPin has written a detailed guide to implementing this stand-alone power board which involves removing onboard VRM inductors on the graphics card and soldering the Epower V to the graphics card, among other things. Explanatory circuit diagrams are available.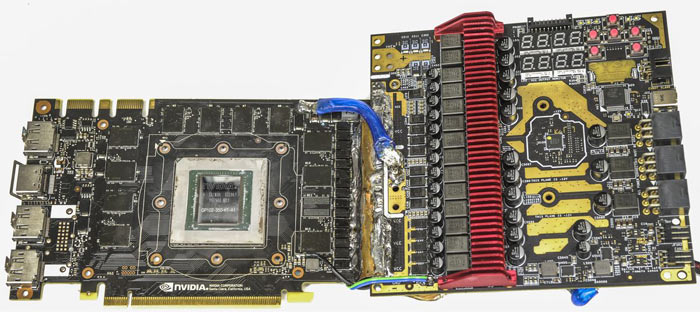 The EVGA Epower V is available now in the US and in Europe, priced at $249 and €269.99 (inc VAT) respectively.