We saw Gigabyte's new Aorus GTX 1070 Gaming Box showcased at Computex at the beginning of the month, and now the PC components and peripherals maker has announced that it is available to purchase.
This is an interesting product for a number of reasons. First of all it's a compact solution, and it comes with a built-in graphics card, last but not least Gigabyte's pricing is competitive compared to other eGPU offerings. As with all these modern eGPU boxes the Aorus GTX 1070 Gaming Box connects to your PC via Thunderbolt 3.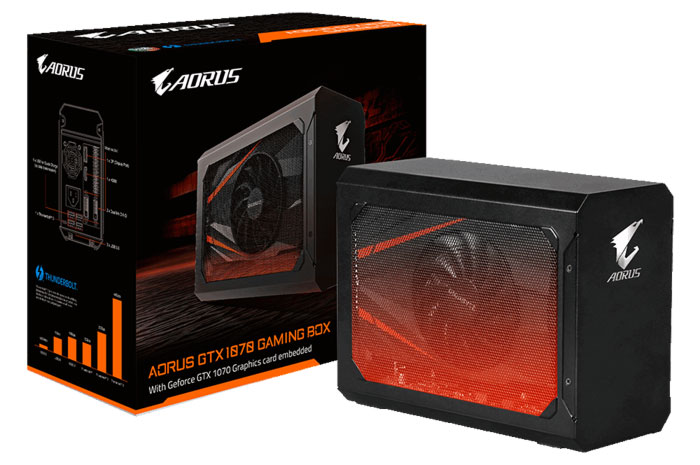 To recap, inside this product is a pre-installed factory-overclocked GTX 1070 graphics card. It's a compact design so upgradeability will be limited to similar mini-GPUs, typically single fan designs. If you look at the product specification page for the GV-N1070IX-8GD, you can see that this card is H=37 L=169 W=131 mm though you might be able to fit something a millimetre or two bigger in this or that dimension.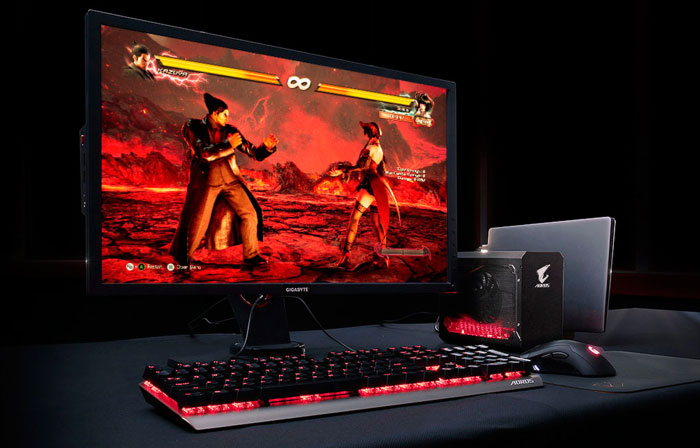 The Gigabyte Aorus GTX 1070 Gaming Box isn't just an eGPU, as is common with this type of expansion box it offers some nice dock features too such as; all the video outs from the expansion graphics card, 3x USB 3.0, a quick charge 3.0 USB port, and the Thunderbolt 3 Type-C port which supports 100W of power delivery to the connected laptop thanks to its embedded 450W PSU.

Feature highlights
Embedded GeForce GTX 1070 enables graphics-intensive game and VR experience
Thunderbolt 3 plug and play
Easy to carry with portable size
Supports Quick Charge (QC 3.0) and Power Delivery (PD 3.0)
Supports 3x USB 3.0 for peripheral devices
RGB fusion - 16.8M Customizable Colour Lighting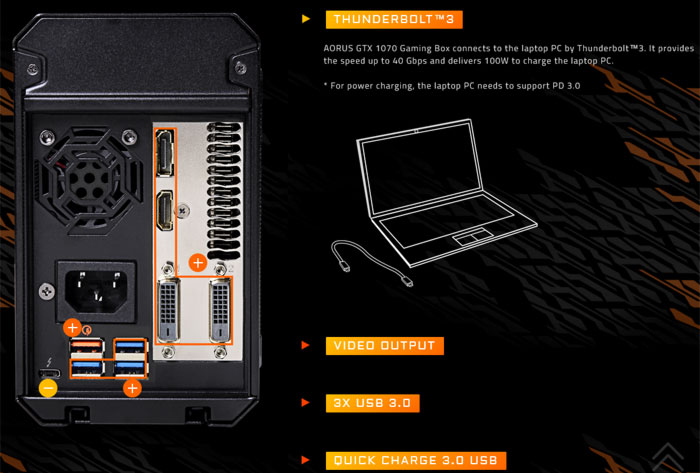 Gigabyte hasn't revealed precise distribution and availability details but we previously learnt that the Aorus GTX 1070 Gaming Box will retail for approx $599.
In related news, Aorus is asking, via Reddit, for any suggestions with regards to tests and benchmarks you would like to see the GTX 1070 Gaming Box put through. Please head on over and make or vote up sensible suggestions if you are interested.