Earlier this week we covered news from Taiwan tech industry insiders regarding purpose-made cryptocurrency mining 'graphics cards'. The report said that both AMD and Nvidia were readying stripped down graphics cards aimed at currency miners. Such cards would aim to better serve the miners, and free up stocks of graphics cards that are being built for PC enthusiasts and gamers.
It seems that AMD cards are favoured by crypto currency miners for their strong GPGPU performance for the price. However, the news stated both AMD Radeon 400 series Polcaris GPUs and Nvidia GeForce GTX 1060-100 GPUs were being built onto add-in boards for the mining market. To keep the prices down these boards would not feature needless frills such as video output ports said the DigiTimes report on Monday.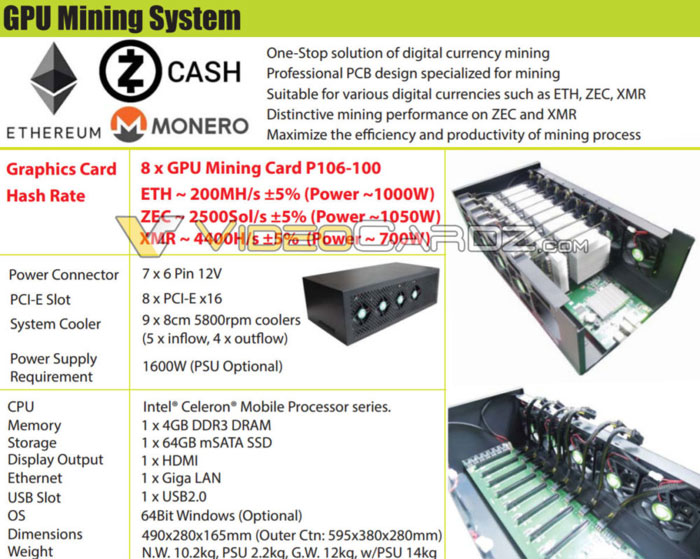 Now we have seen, thanks to VideoCardz, what is said to be the first purpose built Pascal GPU mining solution featuring 'headless' GP106-100 add-in cards. This is the GPU equipped on consumer GeForce GTX 1060 graphics cards, aimed at mid-market PC gamers.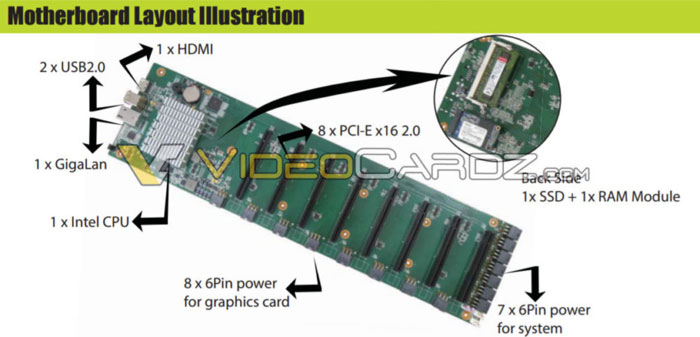 In the system shown 8x GP106-100 add-in cards are equipped in a system which also includes an Intel Celeron Mobile processor, 4GB DDR3 RAM, a 64GB mSata SSD, and 9x cooling fans. A 1600W PSU is recommended for your mining activities, and the system will consume about 1000W with the elongated motherboard fully populated and cranking out currency.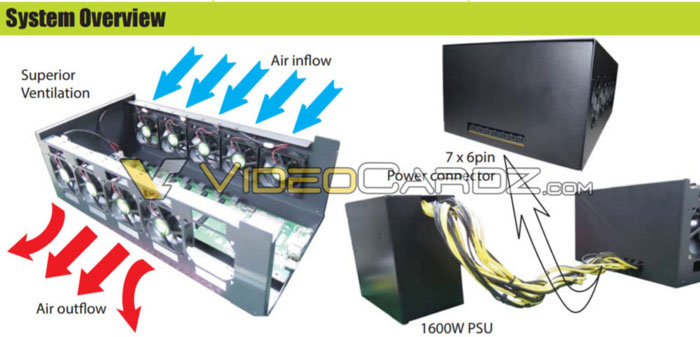 Hash rates for the above system, when mining various currencies, as provided in the graphics unearthed by VideoCardz, are as follows: