Nvidia has just announced a new games bundle. This time around you can grab three games - not just a choice of one from three - but three games. However, you are looking at a big cash outlay to qualify. Not only do you have to purchase a graphics card, or system equipped with a GeForce GTX 1080 Ti, GTX 1080, GTX 1070 or GTX 1060 GPU, you also have to buy an Oculus Rift & Touch Set at the same time. If you are on the brink of venturing into VR then there is "no better time to jump in and immerse yourself," claims Nvidia.
The Nvidia GeForce GTX Oculus Bundle provides a redemption code for The Unspoken, SUPERHOT VR, and Wilson's Heart PC VR games. Here's a quick summary of the respective attractions of these games:
The Unspoken pulls players into a hidden world of spell casting and magicians' duels. Manipulate the environment around you with the powerful arcane forces that flow through your fingertips, summon unfathomable monstrosities with your bare hands, and rise up through the ranks of an urban magic fight club.
SUPERHOT VR blurs the lines between cautious strategy and unbridled mayhem, SUPERHOT is the FPS in which time moves only when you move. No regenerating health bars, no conveniently placed ammo drops. It's just you, outnumbered and outgunned, grabbing the weapons of fallen enemies to shoot, slice and manoeuvre through a hurricane of slow-motion bullets.
Wilson's Heart is an immersive first-person psychological thriller set in a 1940's hospital that has undergone a haunting transformation. You become Robert Wilson, a patient who awakens to the shocking discovery that his heart has been replaced with a mysterious device. Work with your fellow patients to defeat the sinister inhabitants in your pursuit to reveal who stole your heart… and why.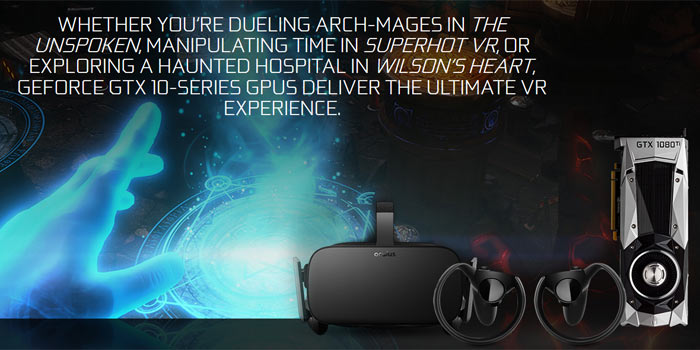 Nvidia's promotion starts today and runs until 13th June - or while supplies last. On the bundle landing page it appears that the promo is only running in North America, the UK, Germany and France. Here in the UK the only participating retailer listed is Scan Computers, based in Bolton. The minimum outlay to qualify for the GeForce GTX Oculus Bundle at Scan is currently £776 (choosing a 3GB GTX 1060).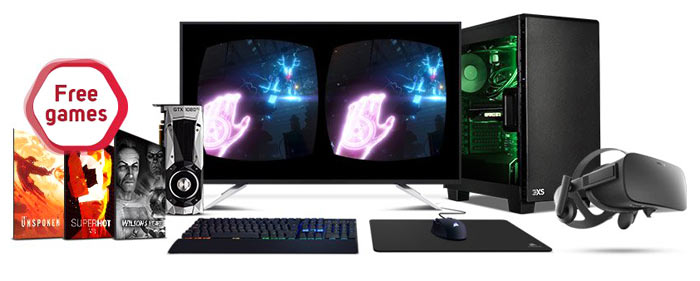 The bundle codes can be redeemed via the GeForce Experience, after which you will receive a new redemption code which you will need to use in the Oculus Store, input that code and the games will download and appear in the Oculus Library.