Overclocker Vincent Lucido, AKA 'K|NGP|N' (or just Kingpin for short), is very well known in his chosen field of endeavour. Specialising in graphics card overclocking, Kingpin even has a signature graphics card model made by EVGA.
Within days of the official release of the Nvidia GeForce GTX 1080 Ti Founders Edition, Kingpin has already worked some magic with this new high performance card. WCCFTech reports that the OC expert pushed a GTX 1080 Ti beyond 2.5GHz and broke a 3DMark Time Spy record previously held by a Titan X. Of course, lashings of LN2 were required.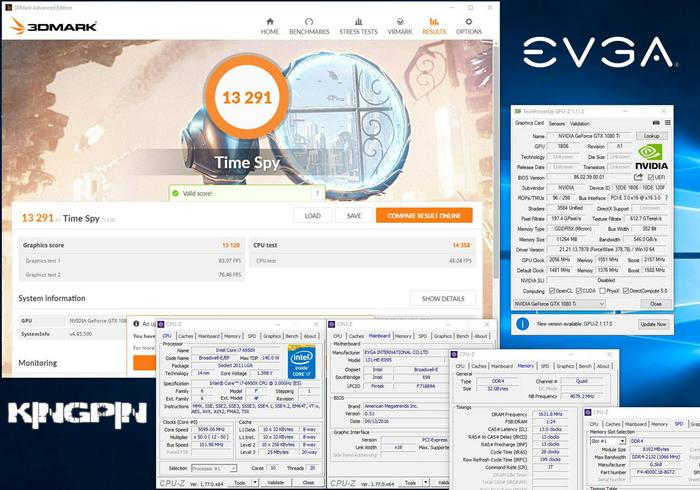 Clock speeds
Kingpin's GeForce GTX 1080 Ti Founders Edition achieved a 2.481GHz base clock, and during the testing and benchmarking tasks actually boosted beyond 2.5GHz. For comparison the reference card is clocked at 1.480GHz base / 1.582GHz boost. Furthermore, the 11GB of GDDR5X memory was overclocked from 11GHz (effective) to 12.5GHz.
3DMark Time Spy world record
The benchmark busting hardware chosen to accompany the GTX 1080 Ti was; an EVGA X99 series motherboard, an Intel Core i7-6950X processor (OC to 5.1GHz), and 32GB of quad-channel DDR4 memory clocked at 3.2GHz.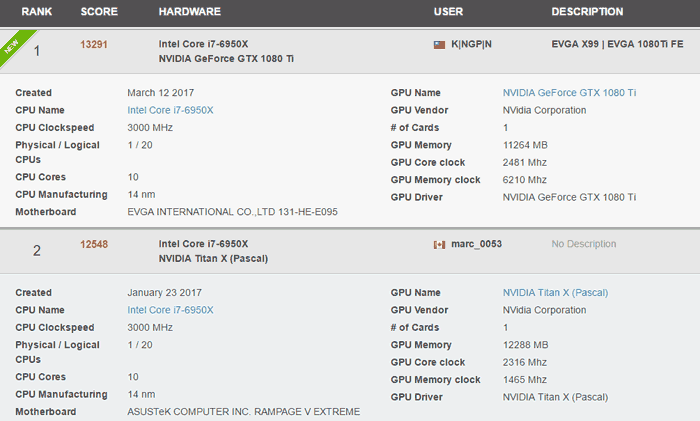 As you can see from the screenshots, via WCCFTech, Kingpin used the above setup to grab the #1 score for 3DMark Time Spy, with 13291 points. It's quite a bit above the second placed Titan X system which recorded a score of 12548 in January.
The above overclocking feat helps show the potential headroom available for custom air and water overclocked cards. For an idea of the OC-ability of custom air-cooled cards you need look no further than the HEXUS review of the Inno3D iChill GeForce GTX 1080 Ti X3. Factory fresh this card achieved a 3DMark Time Spy record score of 9104 points on our test system. The factory overclock on this card is 1.607GHz base / 1.721GHz boost, but we saw it boost past 2GHz in our gaming tests.