Last summer at Computex we got to see Gigabyte's answer to the growing swell of competition in external GPU boxes. Many other companies have tossed their hats into this ring with Asus, PowerColor, Razer, and others with AMD XConnect compatible enclosures nestled in their PC product ranges. At Computex 2016 Gigabyte showed off a tall eGPU box with a handle on top. It packed a 250W PSU for GPU power and Thunderbolt 3 USB Type-C port use. Since summer we haven't heard anything else from Gigabyte regarding that Thunderbolt attached external graphics box…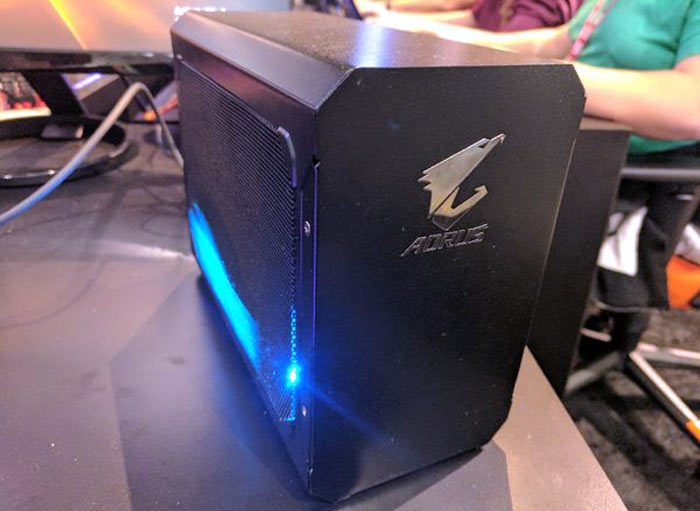 Just ahead of the weekend Tom's Hardware published some snaps and information about an all-new external GPU box from Gigabyte / Aorus. The new enclosure, on show at Pax East, was dramatically different from the previous Gigabyte branded effort. Described by Tom's Hardware as "small, sleek, and impressively light," the box is said to be only slightly larger than the graphics card inside.
The new Aorus GTX 1070 Thunderbolt External Graphics Box connects, as usual, via a single Thunderbolt 3 port. It ships with a Gigabyte GTX 1070 mini GPU pre-installed. Gigabyte has beefed up the PSU inside the box with as 450W model. That should provide plenty of headroom for top end GPUs and extra juice for power distributed from other ports like the twin USB 3.0 ports. Last but not least, the Aorus GTX 1070 Thunderbolt external graphics box comes equipped with RGB lighting frills.

It is hoped that this new box isn't a long way off being released. The product looked market ready and was "running a demo in complete working order," noted Tom's Hardware. Back in January, at the CES 2017, Gigabyte / Aorus updated its X5 and X7 gaming laptop ranges to include Thunderbolt 3 connectivity. Those laptop models already sport good GPUs so I think an external GPU box makes more sense paired with something like the Razer Blade Stealth.